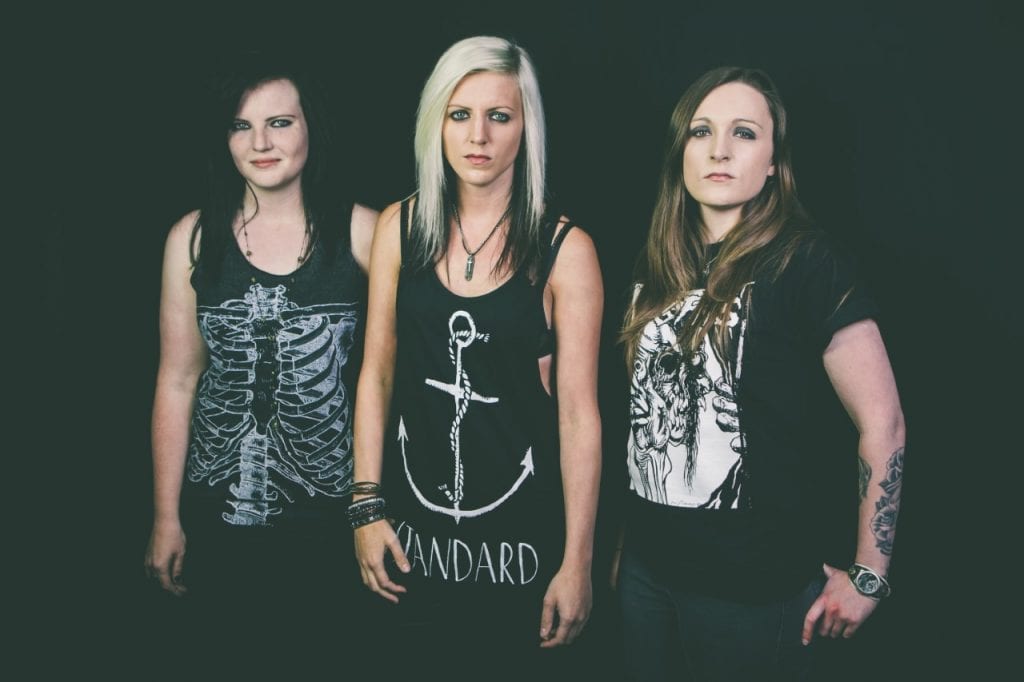 Newcastle-based all-female trio, Scream of Sirens, are a rock band out to make a lot of noise and show that, in the words of their latest single, they are going to 'Get Some' as they head to The Tavern in Blyth for the first time this Sunday night, playing alongside the Honeymoon Killers.
Fronted by vocalist Steph Dawson and flanked by Ruth Cranston (guitar and vocals) and Emma Anderson (drums and vocals), the trio only recently came into the scene in their current form late last year and are presently making announcements aplenty regarding singles, signing with a publishing company, and enlisting the guidance of Media & PR specialist, Peter Mann.
"We were approached by Wipe Out Music Publishing's John Esplen as they were very interested in what we've been doing," began Ruth.
"He'd heard our single 'Get Some' on BBC Introducing and liked the differing styles which we offer (in comparison to other clients they have). They've already got a good, varied roster so we are definitely looking forward to working with them.
"Our EP, Scream, which was released earlier this year, has been signed over to them and we've been afforded plenty of options to work with them in the future which is great for us."
That EP contains tracks such as 'Let You Go' and 'Get Some' which came fast on the back of a debut show which saw them supporting Cherie Currie, the voice of The Runaways, putting them straight into the mix and which had Currie saying afterwards: "You rock, great band, keep it up!"
In the twelve months 'Scream' has done just that, screamed at the rock-loving public meaning they are looking at more, and sooner than later, Ruth adding: "Both the EP and the single, 'Get Some' has been going down really well which is amazing for us, we're delighted they done as well as they have.
"The single, 'Let You Go,' has been done for a video now which will be released in the next few weeks and we're hoping we can get another one out before the end of the year, after that, and a few gigs, we'll take a little time to finalise the album which comes out later next year."
Whilst planning their album for 2017 this year for Scream of Sirens will finish with October finales at the Vintage Rock Bar in Doncaster, and at the Blazing Rag in Mossley, and the possibility of two regional shows just for good measure.
You can follow Scream of Sirens on Facebook facebook.com/screamofsirens and on Twitter @scream_sirens.
I Love Newcastle Magazine would love to hear your thoughts about the above post, so please feel free to share them in the comments box below.