This October 2016 marked the sixth anniversary of NE1's Alive after Five, the award winning initiative which has transformed Newcastle City centre and has been worth an estimated £708 million since launch. Latest figures show that an additional 11.6 million visits have been made to the city in the Alive after Five hours of 5-8pm since 2010.
Alive after Five was devised by business improvement district company, NE1 Ltd to keep the city open and vibrant in the early evening to ensure that Newcastle continued to hold its own against other modern, European, regional capital cities.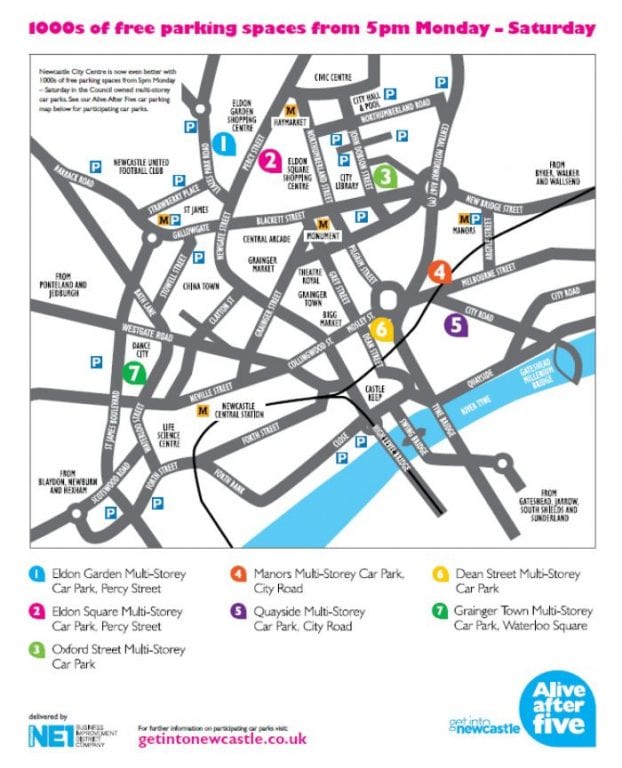 NE1 Ltd delivered Alive after Five as a package, the basis of which was extended retail opening hours until 8pm throughout the year supported by free car parking after 5pm in the 7 council owned multi-storey car parks across the city, an annual programme of high quality events combined with a heavy weight marketing campaign. The initiative is still unrivalled anywhere else in the UK and helped NE1 secure an award for the 'Best BID In Europe' at the recent EU BID Congress in Germany.
Alive after Five was Newcastle's response to the significant shift in consumer behaviour and expectations. NE1 identified that an innovative approach was required to ensure that the city was capable of competing with other national and international cities to attract business, employers, students and customers, especially international audiences, used to 24-hour cities. Six years in and the impact of Alive after Five has been significant. It has unlocked the potential of the city's early evening economy and has made the city a far more welcoming and vibrant place after 5pm. Newcastle's vibrant restaurant scene has been a major beneficiary of the additional footfall generated, with over 45 new restaurants opening in the city since 2010, with another 26 planned for 2016.
Sean Bullick, Chief Executive of NE1 said:
"Alive after Five has transformed Newcastle's early evening economy. Bridging the gap between the city's daytime and night-time economies has delivered a more customer focussed experience and now, people are free to shop, dine, socialise and take advantage of Newcastle's cultural offer at a time convenient to them. The city provides better value with free parking after 5pm and feels welcoming, vibrant and alive in the early evening. The six-year results underline the impact Alive after Five has had, but this isn't the end of the journey, rather, it provides a solid foundation for future growth and investment in our city."
Cllr Ged Bell, Cabinet Member for Investment and Development at Newcastle City Council said: "We're delighted with the success of Alive after Five, and it's clear that our cultural and retail offer is proving popular with residents and visitors alike. Alive after Five goes beyond that though with far reaching economic and social benefits, with a diverse and increasing mix of shops, bars, restaurants and cultural venues all contributing to our city's growth.
"Our ambition is to make our city centre a vibrant shopping and leisure destination to rival that of other European regional cities, and we are actively working with partners to create the right conditions that will encourage further investment, grow our business base and create jobs in Newcastle.
Alive after Five has had an enormous impact on the city which extends beyond the obvious impact on retail spending, the initiative has been welcomed by a range of businesses and industry sectors.
Phil Steele, General Manager of intu Eldon Square commented:
"Alive after Five has been successful because it offers consumers greater choice in when and how they shop. It has helped create the right environment for growth and investment in the city, as seen in our own on-going transformation of intu Eldon Square. Unlocking the early evening has been incredibly important for retailers and the Alive after Five hours are now an integral part of the day's trade which we are continuing to invest in to complement the opening of our 22 restaurants in the Grey's Quarter in Autumn 2016.
"Newcastle has changed dramatically over the last six years – NE1's Alive after Five has helped the city adapt and keep pace with changing consumer behaviour and shopping and leisure habits. People want Newcastle to be open when they have time to shop and use services. As an independent business we needed to open later to cater for this changing customer demand and it has really helped our business. We stay open until 9pm four nights a week and our customers love having free parking near High Bridge to allow them to pop in for a haircut. It is great for the city to have shops, businesses and leisure operators open in the early evening, it makes for a much more welcoming and vibrant place to live and work."
What else was happening in 2010
Newcastle defeated Sunderland 5 -1 in the premier league derby
Labour were defeated in the May general election making way for a coalition Government between the Conservatives and Liberal Democrats led by David Cameron
Prince William announced his engagement to Kate Middleton
Matt McCardle won the X Factor
Julian Assange – WikiLeaks founder took up exile in the Ecuador embassy to avoid extradition to Sweden on sexual assault charges
Take That sold over one million tickets in a day including tickets for their concert at the Stadium of Light in May the following year
I Love Newcastle Magazine would love to hear your thoughts about the above post, so please feel free to share them in the comments box below.