POPULAR bar and restaurant, The Botanist has praised the success of Great North Snowdog trail so far which was brought to life this September and runs until the end of November, and includes its own addition – Rosa Canina.
The team at the Monument Mall venue has welcomed its new arrival as part of the St. Oswald's Children's Hospice campaign in partnership with Wild in Art, which has seen the Snowdog sculptures pop up in public spaces throughout the North East.
Playing host to one of the 61 large sculptures as a sponsor, The Botanist is the proud owner of Rosa Canina which currently stands as the 'most visited' Snowdog on the trail on the official Great North Snowdogs app. The app has already been downloaded over 10,700 times, with 141,000 dogs being unlocked.
Based on Raymond Briggs' original story, The Snowman and The Snowdog, each have been customised by artists and sponsored by businesses to raise funds for the Gosforth charity.
Behind The Botanist's design and its name is Birmingham-based artist Sue Guthrie who used climbing wild flower, dog-rose – otherwise known as Rosa Canina – and botanical colours as her inspiration for the intricate illustration which covers it.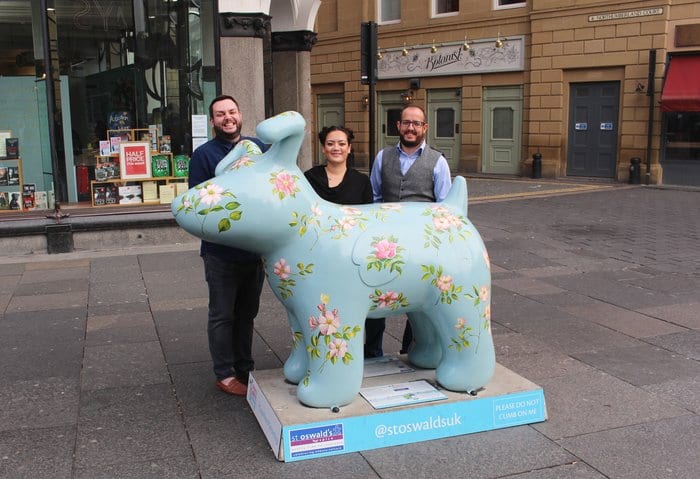 Sue said: "I've worked on several of the Wild in Art trails over the last year producing an owl for Birmingham, two rhinos for Paignton Zoo, a pig for Ipswich and two elephants for Sheffield so now I can add the Snowdog in Newcastle to my portfolio.
"I was thrilled to have my work selected by The Botanist – it's a privilege to be associated with the exciting brand and they serve the best falafel this side of Africa! I knew the floral pattern would be challenging but I'm really pleased with the result. My biggest dilemma was whether to paint the background first and risk dulling the colours, or paint the flowers initially and work around them; I wonder if people will be able to work out which way around I chose to do.
The Botanist Newcastle's general manager Andrew Shiel-Redfern said: "The Great North Snowdogs trail has certainly been a highlight for us this autumn, bringing families and new faces into the city centre to see the brilliantly-decorated sculptures.
"We've definitely got a soft spot for our Botanist-inspired Rosa Canina which perfectly represents us thanks to Sue's hard work and impressive effort. We have had excellent feedback from our customers and were over the moon to learn it's the most visited dog currently!"
Great North Snowdog project lead Jane Hogan said: "The Botanist team has really embraced the initiative and we're extremely grateful for their commitment to it. Their Snowdog is perfectly located to capture footfall, as well as being an easy find for families following the trail."
Sue added: "It's a pleasure to be part of the initiative and I've loved seeing all of the selfies with Rosa Canina across social media. The other big thrill will be to see how much money it manages to raise for St Oswald's Children's Hospice when it is finally auctioned off. I hope the people of Tyne and Wear dig deep to support such a fantastic cause!"
Rosa Canina can be seen taking centre stage in Newcastle, guarding The Botanist entrance until 20 November 2016, next to Grey's Monument.
At the end of the trail, the Snowdog sculptures will attend a three day farewell Weekend where visitors can see them together one final time, before they are auctioned to raise funds to support St Oswald's Children's Hospice.
To find out more about Great North Snowdogs or to attend the Farewell Weekend and Auction, visit:http://www.greatnorthsnowdogs.co.uk/, follow @great_snowdogs on Twitter or search greatnorthsnowdogs on Facebook. You can also tweet The Botanist's Snowdog @RosaCanina_

St Oswald's Hospice provides specialist care for North East adults, young people and children with incurable conditions. The charity needs to raise over £7 million each year through voluntary giving and legacies to continue to provide services to the local community. No charge is made to patients for the services provided, ensuring hospice care is available to all. For more information please visit www.stoswaldsuk.org
I Love Newcastle Magazine would love to hear your thoughts about the above post, so please feel free to share them in the comments box below.