As the UK marks the end of Volunteers' Week 2017 (1 – 7 June) – an initiative that celebrates people giving their time to make a difference in their communities, North East Hospice, St Oswald's has revealed a critical need for 135 more charity shop volunteers.
With a current headcount of 512 volunteers staffing its 28 shops across the region, the charity is launching its inaugural Retail Volunteer Recruitment Week (12 – 17 June 2017) in a bid to attract new people into giving any spare time they can to overcome the crisis.
St Oswald's Gateshead charity shop, located on Jackson Street in the town centre is one of its busiest retail outlets – but has just 10 regular volunteers. In Sunderland, the charity's city centre shop, which raises funds for St Oswald's Children's Hospice has 11 regular volunteers, while its Four Lane Ends shop has only 14. All shops have faced the threat of not being able to open, despite demand from shoppers as a result of low volunteer numbers.
With over 20 years' experience in the voluntary sector, retail area manager at St Oswald's, Susan Freeman leads on volunteer recruitment for the charity's shops and retail services.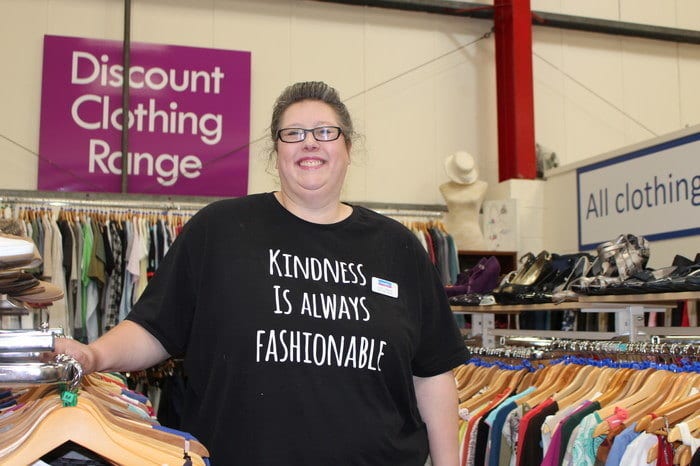 Since being seconded into a position to focus on overcoming the volunteer crisis at the end of last year, Susan has implemented a variety of measures to refresh St Oswald's retail volunteer recruitment process and address the public's perception of volunteering at a charity shop. She said: "The scope of people able to volunteer has changed in recent years, and with more demand on free time this has impacted on our numbers. We're trying to overcome this by letting people know that volunteering for St Oswald's retail team is completely flexible – you can fit it around your commitments and we promote a 'little and often' philosophy.
"While potential volunteers might think we only want people that can dedicate a lot of time, this isn't the case. We have a lot of volunteers that help out a couple of morning shifts a week, or an afternoon a week – just a few hours here and there. Every little really helps and this is why we are asking for so many more new volunteers. If you look at averages, we have 18 volunteers per shop, but this isn't a true reflection for the majority. Based on the CRA's national figures, we've doubled the difference of how many we need to meet at least the national figure with the hope of creating a new 'army of volunteers' to support our 'little and often' approach."
"We hope people will see the benefits volunteering can bring and join our teams with any time they can afford."
St Oswald's charity shops range from traditional shops in the heart of local communities to specialist stores – including its innovative upcycled furniture boutique, Re-styled by St Oswald's Hospice in Newcastle city centre and Posh Frocks and Bridal shop in Whitley Bay. Its wider retail volunteer team includes van driver assistants, e-commerce, maintenance, and administrative assistants – with all areas all in urgent need of more help.
St Oswald's Hospice, based in Gosforth provides specialist care for adults, young people and children with life-limiting conditions from across the North East, and their families with no charge for its services. All profits from its charity shops and retail activities contribute to the excess of £7 million the Hospice needs to raise each year through voluntary giving in order to continue to deliver its services, free of charge, to those who need it most in the North East and their families.
For more information on the volunteering opportunities available at St Oswald's shops and retail services, please visit www.stoswaldsuk.org/volunteer or contact the retail helpdesk on 0191 246 9071 / retailhelpdesk@stoswaldsuk.org.
For further details on St Oswald's Retail Volunteer Recruitment Week, visit www.stoswaldsuk.org. You can also keep up to date on St Oswald's social media channels across Facebook, Twitter, LinkedIn and Instagram.
I Love Newcastle Magazine would love to hear your thoughts about the above post, so please feel free to share them in the comments box below.