Newcastle University's Great North Museum: Hancock throws open its doors after-hours on Friday 30 September for Science Uncovered, a fun-filled alternative night out.
Pioneers from the region's top universities present their latest discoveries at the informal expo which runs from 6-10pm, with free entry. The contemporary programme includes a science-themed bar, experiments, performances, tours and demonstrations.
A highlight at London's Natural History Museum for several years, Science Uncovered comes to Newcastle for the first time as part of European Researchers' Night. The continent-wide initiative takes scientific research and showcases it in a fun, social setting.
Caroline McDonald, manager at the Great North Museum: Hancock spoke to I Love Newcastle Magazine and said:
"We can't wait for Science Uncovered – the night will be buzzing with new ideas, cutting-edge discoveries and opportunities for hands-on experimentation. This is just what makes university museums so special.
"We hope that the night will inspire people to engage with research and maybe even consider it as a career."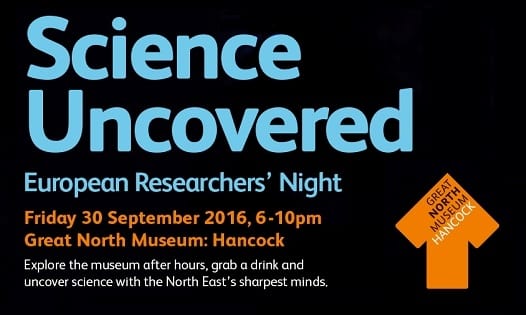 'Science Stations' around the museum will be the place to stop and explore a range of intriguing topics. Can water be split into hydrogen and oxygen using just an alkaline battery? How are bath bombs made? Why are sea anemones sticky? These are just a few of the questions that will be answered on the night.
Visitors will be invited to grab a cocktail and pick a scientist's brain about the mysteries of the natural world in the Science Bar, whilst the opportunity to take a tour of Newcastle University's BioImaging unit should not be missed.
The Great North Museum's resident experts will be on hand to illuminate its vast collections from the natural world and there will be a special opportunity to access a rare first edition of Charles Darwin's On the Origin of Species in the library.
There will be someone interesting to talk to at every turn and a special Turing Machine audiovisual performance from artists Tom Schofield and John Bowers too.
Science Uncovered is most suitable for adults and takes place on Friday 30 September, 6-10pm. Entrance is free and visitors can drop in on the night.
The project has received funding from the European Union's Horizon 2020 research and innovation programme under grant agreement No. 722950 in the framework of the Marie Skłodowska-Curie actions.
INFO
Science Uncovered: European Researchers' Night
Great North Museum: Hancock
Barras Bridge, Newcastle upon Tyne, NE2 4PT
Friday 30 September 2016, 6-10pm
Free entry
CONNECT
www.greatnorthmuseum.org.uk
/GreatNorthMuseum
@GNM_Hancock
@GNM_Hancock
I Love Newcastle Magazine would love to hear your thoughts about the above post, so please feel free to share them in the comments box below.