WITH winter on its way bringing with it dark mornings and nights, keen cyclists, golfers and runners can swap cold, wet outdoor training for Pilates in the beautiful Northumberland countryside with Precision Fitness.
It's relatively unknown that practicing Pilates can make a real difference to the performance of keen sportsmen and women, as it improves core stability, strength, flexibility and muscle balance – working the body in all movement planes.
Precision Fitness owner Adrian Bell, or the 'the movement man' as he's often referred to, has identified five key benefits which come from practicing Pilates, which can make an effective alternative training method when getting out to cycle, run or play golf isn't feasible.
Adrian said: "It's amazing how much of a difference practicing Pilates can make to the movement capabilities and therefore performance of keen cyclists, golfers and runners. With the dark mornings and nights upon us, going out to train may not seem as appealing as in the summer months, but does provide an ideal opportunity to include Pilates as part of a training programme."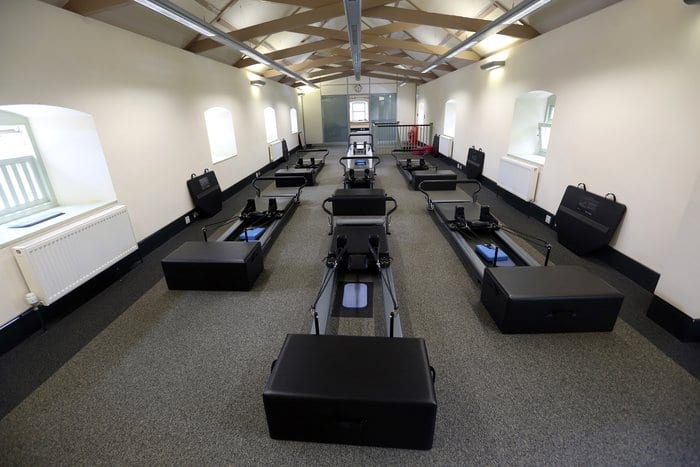 Benefits for cyclists
1. Reduce spine stiffness and improve aerodynamic position on the bike
2. Improve functional core strength in the riding position
3. Improve shoulder girdle stability and reduce pain
4. Develop upper and lower body disassociation to reduce energy loss
5. Encourage hip, knee and ankle alignment
Benefits for golfers
1. Reduce lower back pain
2. Improve upper body rotation to increase range of motion and increase club head speed
3. Encourage disassociation of upper body and pelvis
4. Develop shoulder mobility and shoulder girdle stability
5. Improve the ability to load the hips and reduce stress on the knees
Benefits for runners
1. Improve mobility in the hips and ankles
2. Develop flexibility in hamstrings, hip flexors and calves
3. Strengthen the core and improve pelvic stability
4. Help decompress the spine
5. Improve stability in the knees and reduce pain
For more information on Precision Fitness and to book a class or personal training session call 01670 785 759 or visit: www.precisionfitness.org.uk.
I Love Newcastle Magazine would love to hear your thoughts about the above post, so please feel free to share them in the comments box below.