If you've been to the Metro Centre recently you might have noticed some rather unusual visitors.
A group of giant British bugs have taken over the mall, in an effort to cheer up the region's shoppers.
The Big Bugs are on tour to bring adults and children face-to-face with 12 giant British bugs in an effort to reconnect people with nature and make them happier.
The invasion of the creepy crawlies comes after research by Metro Centre owner intu, revealed that being closer to nature makes you 67 per cent happier, but one in six kids (16 per cent) have not seen a single bug in six months.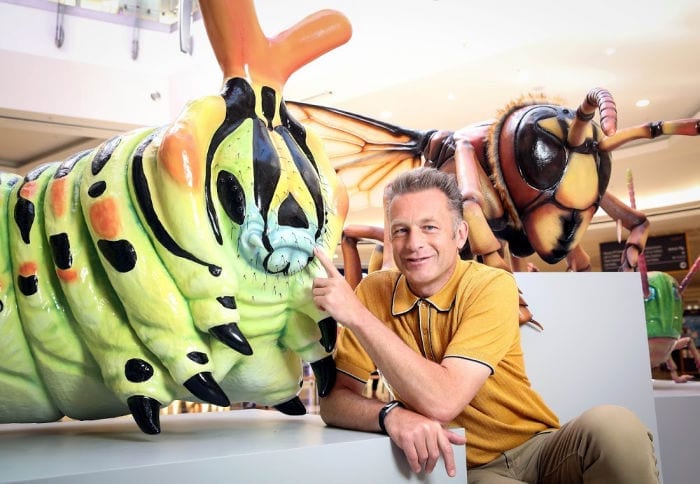 The initiative by intu is backed by naturalist Chris Packham and features 12 supersized, indigenous bugs including the honeybee, ladybird, hornet, swallowtail butterfly and the nut weevil.
The campaign to reconnect kids and adults to nature comes as reports show children are now better at identifying Pokemon characters than British wildlife, despite a £10 million pledge from Government to encourage children to get closer to nature.
The research by intu found that almost four in five parents (78 per cent) want their children to be more connected to nature and 86 per cent think they spend too much time looking at screens, but one in six children in the UK (17 per cent) have not set foot in a park or forest in the last 12 months.
One in five children (21 per cent) were unable to correctly identify a bee while one in four children (25 per cent) have not seen a caterpillar in over a year. One in ten kids (10 per cent) did not know honey came from bees.
Adults were also lacking in their bug knowledge, with one in four (25 per cent) unable to tell the difference between a bee and a wasp and a quarter (25 per cent) unable to correctly identify a grasshopper.
Over a third of adults (35 per cent) of adults say they see far fewer bugs in their gardens now than five years ago with nearly half (49 per cent) saying they are worried about the decline in insects but didn't know how to help.
Helen Atkinson, marketing manager at intu Metrocentre said: "We know that a closer connection to nature makes people happier and Big Bugs on tour is an opportunity to help educate adults and children on the importance of the bugs in their gardens and put a smile on their faces.
"Millions of people shop at intu centres every year so we hope bringing them face-to-face with these giant British bugs can make a real impact in how they interact and reconnect with nature, and ensure they are happier than when they arrived."
Chris Packham added: "We are facing a crisis in our countryside. I haven't seen a single butterfly in my garden this year and more needs to be done to reconnect people with nature and start caring for and realising the importance of the bugs in your backyard.
"intu's Big bugs on tour is shining a big magnifying glass on this and also putting bugs into school classrooms, and is a fantastic initiative to alert to the importance of nature in our lives."
The 12 British bugs being exhibited are:
Azure damselfly
Black ant
Honeybee
Hornet
Ladybird
Meadow grasshopper
Swallowtail butterfly
Swallowtail caterpillar
Nut weevil
Rose chafer beetle
Stag beetle
Greater water boatman
10 Facts you didn't know about the bugs around your garden
A bee's wings beat 190 times a second, that's 11,400 times a minute
A ladybird might eat more than 5,000 insects in its lifetime
Grasshoppers existed before dinosaurs
Certain ants can leap seven times the length of their bodies
Butterflies taste with their feet
Caterpillars have 12 eyes
The stag beetle is the largest species of insect to be found in the UK
Damselflies have been on earth for more than 300 million years
A hornet's favourite food is a…bee!
Greater water boatmen breathe through their bottom!
The report highlighted the importance of being connected to nature for your health and wellbeing with two in three people (64 per cent) saying they feel happier after gardening or doing other green activities while 82 per cent of those involved in the study said a walk in the park makes them feel less stressed.
Big Bugs on tour launches at intu Metrocentre on Saturday 02 February and will be on display until the 02 March 2019. For more information visit www.intu.co.uk/BigBugs.
I Love Newcastle Magazine would love to hear your thoughts about the above post, so please feel free to share them in the comments box below.