Señoras y Señores! Ha pasado mucho tiempo desde la última vez que.. ah sorry, excuse me, two pints of Estrella Galicia and I think I'm a native of Catalonia. It's been a while since my last culinary review, how I've survived between the last one up until now I'll never know, but I ask of you to please forgive my rustiness.
Newcastle is booming. It's famous Grey Street has become the setting to Transformers: The Dark Knight, Monument Square became host to a number of anti-Trump rallies, which, well, achieved nothing really, big name music artists such as Kings of Leon and The Weeknd have added Newcastle to their tour lists. More in the future, Newcastle can welcome the prospect of a Championship trophy celebratory parade from their football team, open-top bus-style, gallantly boasting their silverware, or maybe that's the Estrella talking again?
Anyway, the point is Newcastle is a thriving city, a cultural, dominant powerhouse in the North-East of England. What it does not lack, is restaurants. So when Intu Eldon Square announced it's all new gastromonic expansion entitled "Grey's Quarter", head's tilted and frowns were prominent. How do business' survive when there is so much choice? It's the question that still frequents my mind, yet, being a somewhat passionate foodie, it really isn't one of my main concerns. Ask Italian, an all-new TGI Fridays, Chaophraya, big names albeit chains (I much prefer independent restaurants both for authenticity and quality so I will be a tad bias) that have already established themselves down south but have yet to make the bold step of impressing Geordies, who lets be honest, are renowned for loving their scran, the only city where you'll find three Greggs on the same street!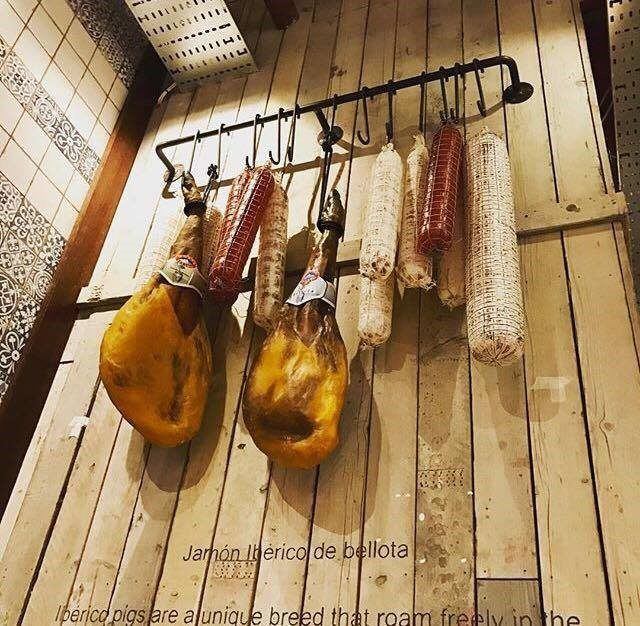 Along with those, is Tapas Revolution. Founded by chef Omar Allhiboy, who believes: "Food, like life, is best shared with friends and loved ones and tapas are the embodiment of sharing. Eating from the same plate enhances conversations and brings us all closer". I know what you're thinking, I don't like sharing either, but sometimes its nice to put our stubbornness aside for five whole minutes and enjoy a variety of different flavours in one go, as the late Christopher McCandless once said: "Happiness is best when shared", despite running off into the wild on his lonesome. Authenticity is one of Tapas Revolutions strong points. With both the majority of the management and waitressing staff Spanish, and the interior design built up with that cluttered terrace, noisy feel of a bar that plagues the wishful minds of those wanting to get whisked away to a side street off Las Ramblas. The menu itself it written in Spanish, with the English equivalent written in brackets underneath, which I thought was a good touch personally, keeps it bona fide. You were probably wondering why I was speaking Spanish earlier, well now you do.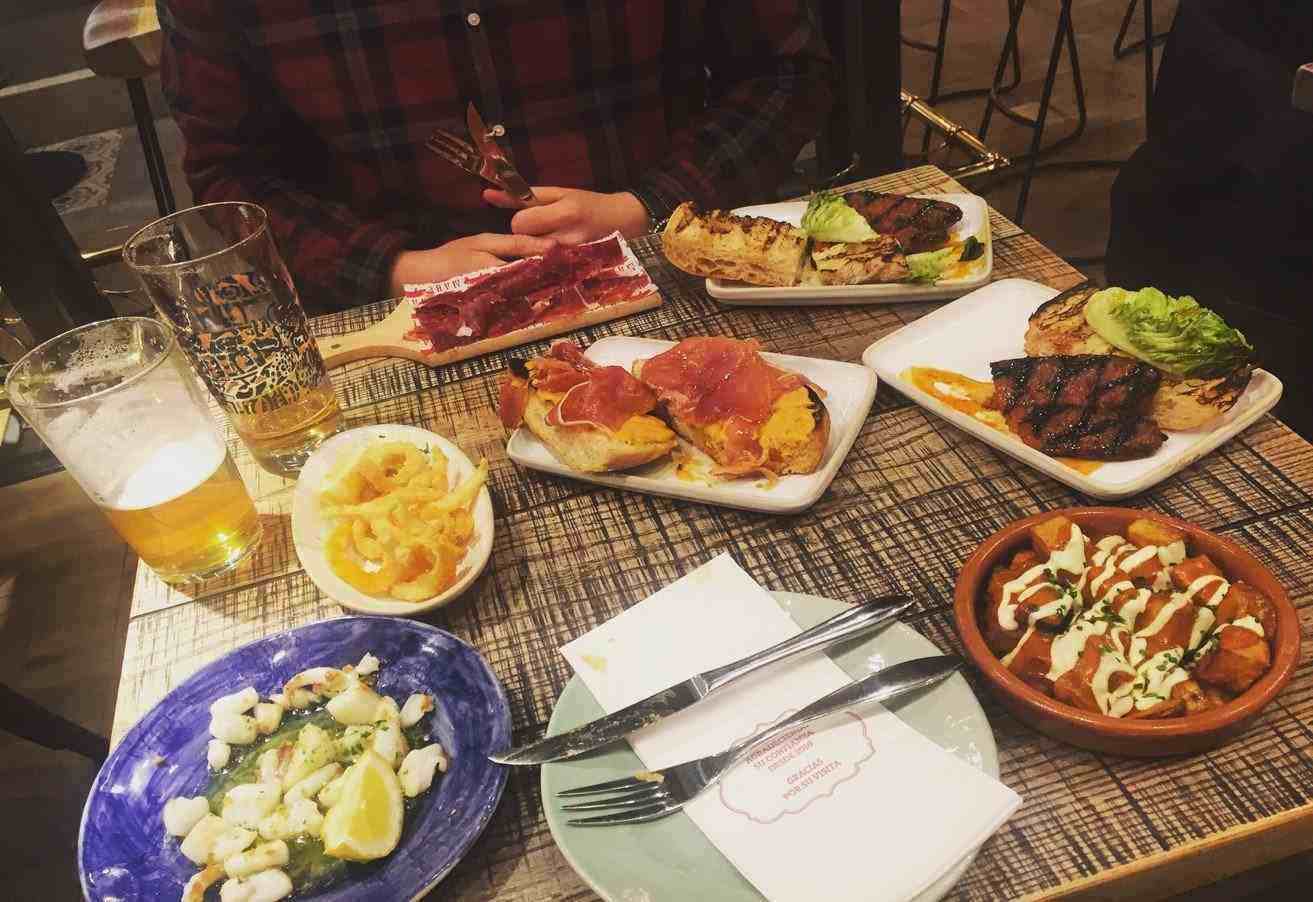 We ordered a range of different plates. I really wanted to sample a good chunk of the menu in order to fully get an understanding of the quality of food being served here. Deep fried calamari with a strong flavour in aioli really complemented the fresh taste of squid. Sepia a la plancha or grilled cuttlefish, was recommended by our waitress and I'm rather glad I let her decide for me, the intricate mix of garlic, parsley and extra virgin olive oil it came swimming in was exquisite and the first time I've tried cuttlefish.
We also ordered grilled chorizo on crunchy Spanish bread, toasted bun with serrano ham and garlic tomato sauce and 24 month-aged Iberian cured ham, fed on an acorn diet, which at £9 a portion, the price of a full main course in most places, is a little steep but the quality in taste is most certainly there, salty but not enough to be overbearing. For someone who wasn't particularly keen on anything garlic related prior to my visit, I can now see the importance of it when mixed with certain dishes, something my stubbornness to give things a chance is slapping itself for. We also ordered the obligatory patatas bravas to make up the table, but despite being more of a dish that complements the main tapas, they themselves were done in a very nice, tangy and subtly spicy tomato sauce, which was dutifully mopped up with the crusty bread.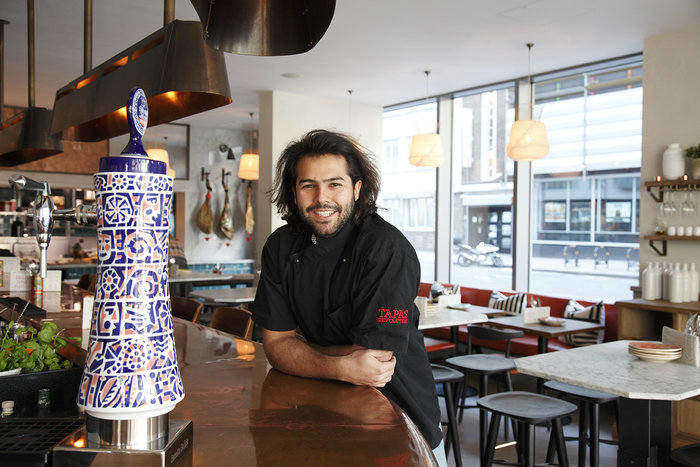 Staff were gregarious, and not because they have to be. I myself have done a few years in customer service and catering, I can spot a script-like, fabricated response a mile off, they seemed genuinely passionate to talk about some of the food and beers origins from their homeland and little anecdotes about where best to enjoy them. These are the atmospheres I often crave and love when going abroad, as unfortunately, personally, pretentiousness can often manifest itself in customer/employee relations in this country way too often, so it was refreshing to witness. From my advice, Tapas Revolution is a great place to dine if you're in groups of 3+. That way, you can really go to town with the number of tapas providing all party members aren't fussy eaters, sharing small plates is how we connect, it also looks fab on Instagram, bloggers.
I Love Newcastle Magazine would love to hear your thoughts about the above post, so please feel free to share them in the comments box below.