HUNDREDS of disabled and disadvantaged young people across the region will receive vital equipment and support thanks to a children's charity getting a cash boost.
Tesco Bank's Newcastle office have pledged to raise £15,000 for Smile For Life Children's Charity after choosing them as their charity of the year for 2017 – 2018.
It means that Smile For Life can extend their work placements at Café Beam, run more challenge days across the summer holidays for disabled youngsters and approve more applications for equipment and short breaks to families in desperate need.
Paula Gascoigne, Chief Executive of Smile For Life Children's Charity, said: "This is the biggest opportunity that we have ever had and it means the absolute world to us as a small charity. There is so much that we can do with this money, the beauty is that it will be used in lots of different ways, reacting to what is needed and asked for.
"We can look at providing more challenge days in the summer to disabled children who may be isolated during this long period of time; each day sees 50 youngsters attend at a cost of about £2,000, so we can now reach hundreds more children.
"It will help us to extend our work placement opportunities at Café Beam, where students get to learn valuable work-based skills to help build their confidence and experience.
"We can also approve more individual applications, for example £2,000 will buy us six iPads to children who cannot speak and need this equipment to communicate."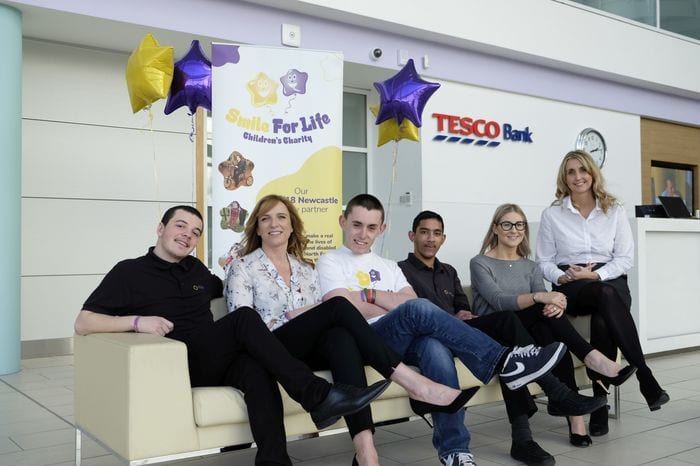 She added: "We are entirely self-funded and so the support of such an enthusiastic business with so many staff that are committed to helping us to fundraise, volunteer and raise the profile of the charity is just unbelievable. The difference that this will make to us is immense."
Smile For Life was chosen by Tesco Bank staff as their favourite charity following a vote. The charity visited the office, at Quorum Business Park, Longbenton, to launch the partnership.
Colleagues will fundraise £15,000 through a variety of fundraisers and charity challenges, including the Great North Run and climbing Mount Kilimanjaro next year.
Nicola Richardson, Operations Manager for Tesco Bank, said: "After visiting Smile For Life I felt very strongly that this was the charity for us, and we all felt the same. It was a very different visit as we got to meet young people who are helped by the charity instead of just those who run it. I saw the young people there and they were a part of it all and it hit home just what Smile For Life does.
"Choosing a charity of the year is very important to us and we know that with Smile For Life the money will make such a difference to local young people.
"We want the staff to get really involved in events and volunteering and work together with Smile For Life and have a big impact on the charity. We are so excited and passionate about making a big difference."
Website
www.smileforlife.org.uk
Facebook
/smileforlifeNE /cafébeamnewcastle
Twitter
@smileforlifeNE / @cafebeamncle
I Love Newcastle Magazine would love to hear your thoughts about the above post, so please feel free to share them in the comments box below.