Popular Geordie magician, Chris Cross, has pulled a Rabbit out of the Hat by Writing & Releasing a Marvellous New Geordie Magic Book.
'The Geordie Book of Magic' teaches a dozen North-East themed Magic Tricks with a Foreword from Debbie McGee & Illustrated by VIZ Comic Artist Davey Jones
Priced at £12, the new book is suitable for all ages and comes complete with some specially printed trick cards to perform with.
Also, included, is a DVD of Chris performing and explaining all of the tricks from the book to a few local celebs including; Malcolm 'Supermac' Macdonald, Tim Healy, Charlie Richmond, Simon Donald, Chris Beattie, Lesley Saint John, Ray Laidlaw & Other Famous Faces from the North-East.
"I'm a Proud Geordie and Love my Magic Tricks…So the book combines What I love, With where I love!"
The tricks in the book are all themed around North-East landmarks, such as The Angel of the North, St James's Park and The Town Moor, among other places – with local history facts along the way, entwined in each trick!
Actor Tim Healy Says: "You've gotta get this book… it's Fantastic…but not only that, Chris is a top man. A top, top man. So there – buy the book!"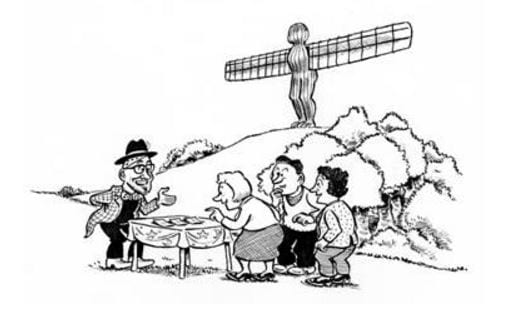 Commenting on his new book, Chris said:
"I had an idea 5 months or so ago to write a book on Magic tricks to be sold locally. To encourage the people of Newcastle to learn a few tricks and continually keep my goal alive to Keep Entertainment alive in the Region! I thought if a kid got hold of the book and fell in love with the art of magic by reading it and went on to become a professional magician years later then it all would be worthwhile…
SO… I sat down and started scribbling ideas and ended up with a dozen magic tricks based around North-East landmarks and places. Davey Jones, who created some popular VIZ characters came onboard to illustrate it and when I mentioned it to Debbie McGee she was only too pleased to write a foreword for it too, following on from performing with her late husband and my inspiration, Paul Daniels.
Once it was all written, illustrated and designed, I got it back from the printers and it was amazing to see the finished product – I must admit I reckon it looks quite canny! It was a moment I'll never forget, opening one of the cardboard boxes with a bread knife out the kitchen drawer and holding my book and seeing it for the first time –
at that moment I became an AUTHOR! Pretty cool, eh!"
Chris added:
"I can't wait for the book to hit the shelves properly in the shops and see what people think of it – it comes with a packet of specially printed cards to perform a few of the tricks with AND a DVD too with all of the tricks on it…
So far, the feedback has been very positive and The Baltic, The Back Page and other city centre shops are stocking it.
I've got a book signing in WHSmith in the Metrocentre too on Friday 14th April, so come and check it out then!"
MEET CHRIS CROSS AT AN IN-STORE SIGNING EVENT AT WHSMITH METROCENTRE ON FRIDAY 14th APRIL BETWEEN 11am – 3pm. HE WILL BE SIGNING COPIES OF HIS NEW BOOK AND PERFORMING A FEW MAGIC TRICKS FROM THE BOOK THROUGHOUT THE DAY, TOO!
FROM 14th APRIL THE BOOK WILL BE AVAILABLE FROM:
WHSmith @ Metrocentre, The Baltic Gift Shop @ Gateshead Quays, Upside-down Gifts & The Back Page in Newcastle.
Other outlets are TBC in the next week –
For updates see: Facebook.com/GeordieMagicBook
I Love Newcastle Magazine would love to hear your thoughts about the above post, so please feel free to share them in the comments box below.