It had certainly been a long time coming but time certainly stood still for nobody on Friday as UK indie rock band, The Longsands, showed no signs of their brief hiatus as they, quite literally, rocked The Cluny.
The fans were there, in their hundreds, alongside former 'Sands guitarist, Gaz Ormston, putting in an appearance in support of his former colleagues.
Opening with Craig Redpath and The Red Jets, setting the tone for what would fast become an exhilarating night of non-stop indie rock that was certainly worth the journey out.
When The Longsands finally took to the stage the place erupted, and rightly so, it had been some time since they last played together as a full band.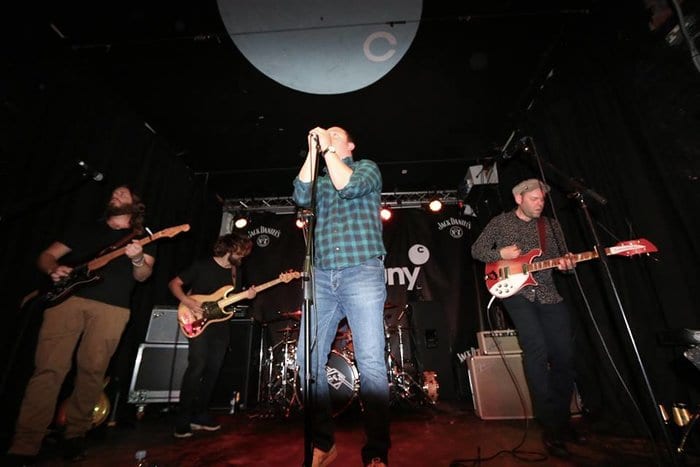 They opened with the opening track from their new album, a masterpiece, as Adrenaline Junkie Flu 'eased' the delighted crowd into their set. It set the tone for a full repertoire of sound from both 'Meet Me in Spanish City' and 'Us and Them.'
There was even time for an unscheduled acoustic set mid-show thanks to an issue with Callum Thompson's guitar that needed urgent repair.
Prior to the event, vocalist Ian Barnes said: "The release of the single, 'Tomorrow we Vote,' was coincidental really and it showed that we are very much still about.
"Standing in the Shadows' has also done alright and it went about giving the fan base what they want."
"The mix sounds great and we're really excited about it all. The new album has an interesting element to it and is near fifty minutes of pure pleasure from which we've just tried to write about what has been going on.
"The music and message is very 'here and now' and I think that it will be something people can relate to.
"Whatever people's personal feelings and thoughts are you can certainly resonate with the vibe of this music; the music should be honest and I've always wrote material selfishly and for what others want to hear. Reality and honesty is what real music is all about and that's what our music resonates around, reality."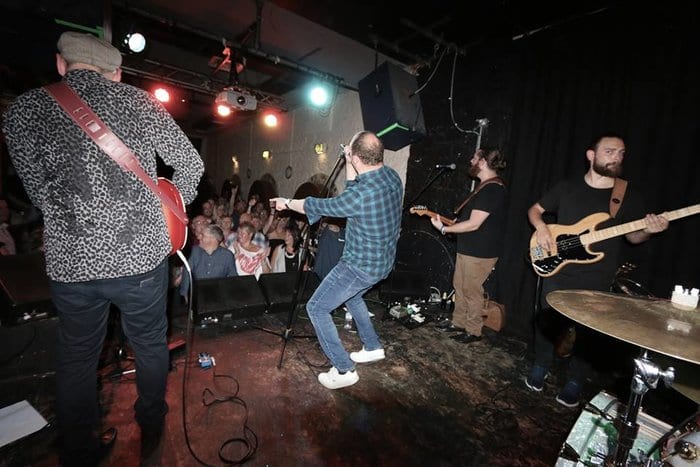 Interaction with the fans was in order throughout, it always is at a Longsands gig; they don't demand it, it just comes naturally for who they've become, more so as tracks such as 'Bully,' 'Where's My Daddy Gone' and 'Scissors and Stone' among others.
Favourites from both albums, tracks such as 'Streets and Pavements,' 'North South Divide,' 'Standing in the Shadows' and 'Little Britain' got impressively welcome receptions.
Cox and Barnes vocalised to the hilt, Cal and Stan chipped in with their own around their strumming to their hearts content, and Paul had his drums reverberating around the venue adding extra to the occasion.
It was a true prediction from Trevor Cox as the gig came about, adding: "We may even play some tracks that nobody has heard before as well (at the gig).
"A lot of things have changed in all our lives but, saying that, I'd love to go on from this and make a third album; with having a strong team around us we feel there's more credibility to what we have produced this time around on Us & Them.
"I found it really encouraging to get all of the band together and we should be able to keep things going."
No matter what they played from their impressive back catalogue of indie music, Longsands followers, old and new hung on every last note, every tune, EVERY SOUND…..
"They haven't been away, this is just the beginning of something really special."
Follow The Longsands on Facebook and Twitter @the_longsands; their new album, Us & Them is available from digital stores (Tunes, Amazon, HMV Digital, 7digital and more) globally from Monday….
I Love Newcastle Magazine would love to hear your thoughts about the above post, so please feel free to share them in the comments box below.