The annual Newcastle Christmas Markets opened once more on Friday 16 November, bringing tinsel and bauble decorated stalls, housing everything festive from holly wreaths to miniature Christmas trees.
There is much to see and do, the market a great place to buy loved ones quirky presents to unwrap on Christmas day.
Like any other sport, shopping requires energy and the Newcastle Christmas Markets are the perfect place to refuel for long days of gift buying.
There are lots of stalls serving tasty dishes of both local produce and international cuisines, and warm, cosy beverages to keep out the bitter North East winds.
Here's our pick of the best:
Chorizo and potatoes
Kept at a constant heat in a large wok on show in the window of the stall, the sautéed potatoes are infused with powerful flavours.
Mixed with slices of salty, cooked chorizo, and chunks of onion and sweet yellow pepper, you can choose to add a dollop of garlic sauce that compliments the flavours and adds some welcome moisture to the dish.
Cost: £5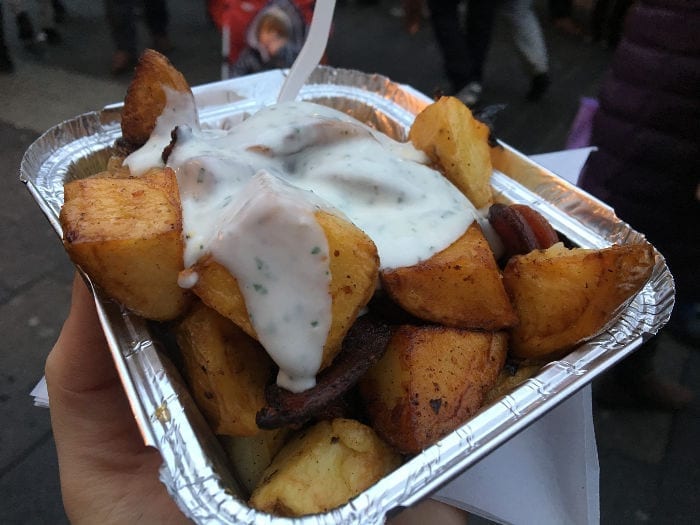 Bratwurst
These hearty German sausages are thick and meaty and fill you up. Served in a crusty bread roll, they herald from Germany and represent an aspect of the International Christmas Market that usually runs for the half of the month the market is on for before switching to local produce.
This year, however, they have decided to have the two markets alongside each other. Customers can choose either a plain or spicy bratwurst before adorning it with a range of sauces, a great way to satisfy shoppers' hunger.
Cost: £5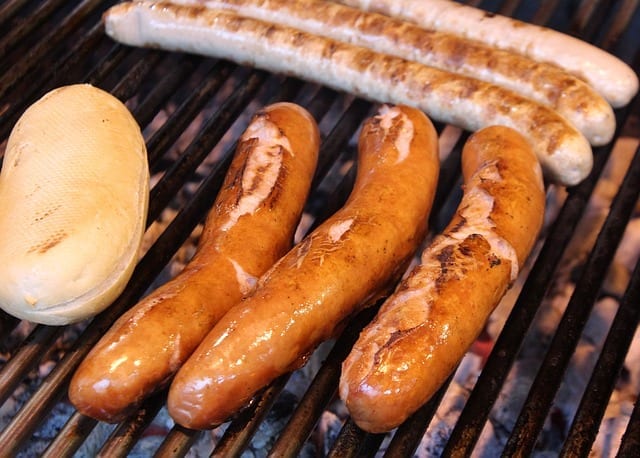 Yorkshire pudding wrap
The Yorkshire pudding wrap is a fad most people know from Facebook videos, showing giant Yorkshires filled with the quintessential elements of a Christmas dinner.
Its online popularity attracts customers to the stall on Grey Street, as a line of wide-eyed, hungry locals winds up the street.
However, the visible packets of Paxo's stuffing mix and frozen roast potatoes lining the shelves is very commercial, and the watery gravy and oily horseradish sauce falls short of the flavoursome home cooking of mums.
A quick fix for hungry shoppers, but worth the hype? Unsure.
Cost: £7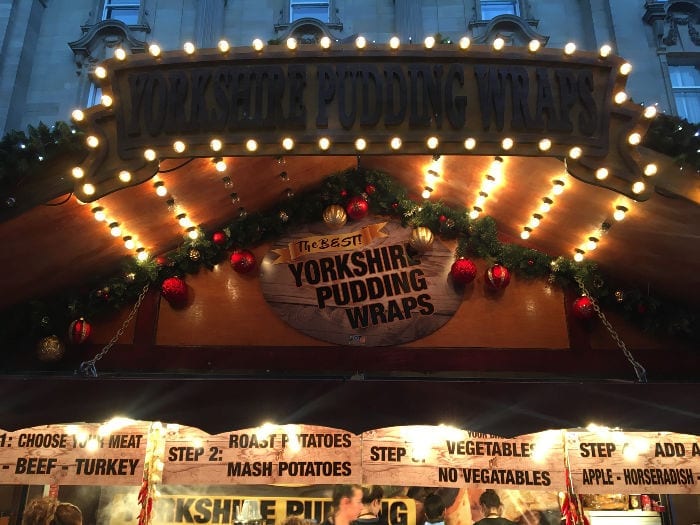 Brownie Bar
Founded in 2010, The Brownie Bar is a local company owned by sisters Sarah and Rachael Cawkwell.
With one store in Eldon Garden and another on Chillingham Road, the hope is to expand their audience and exposure with a stall at the heart of the market, their range of brownies on show.
Brownie flavours include well-known brands like Malteser and Oreo, that they serve alongside blondies and jars of brownie ingredients, which are sold as gifts.
The brownies themselves are delectable, with a dense texture and rich flavour, and an option to warm them up at the bar.
Cost: £2.50 each or 4 for £9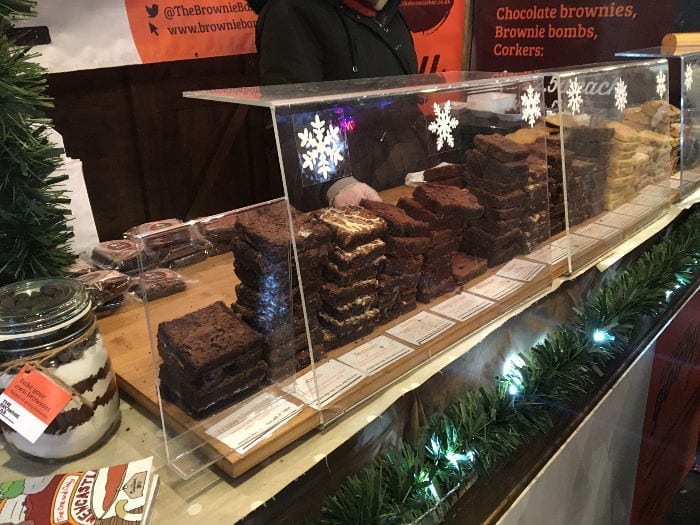 Crepes
Crepes, like bratwursts, are another international option from France.
Offering both sweet and savoury toppings, customers can choose to have ham and cheese, or Nutella and banana, just a few of the options from an extensive list.
Freshly prepared and wrapped up in a paper cone, eating it is a task but well worth the mess for the indulgence.
Cost: £5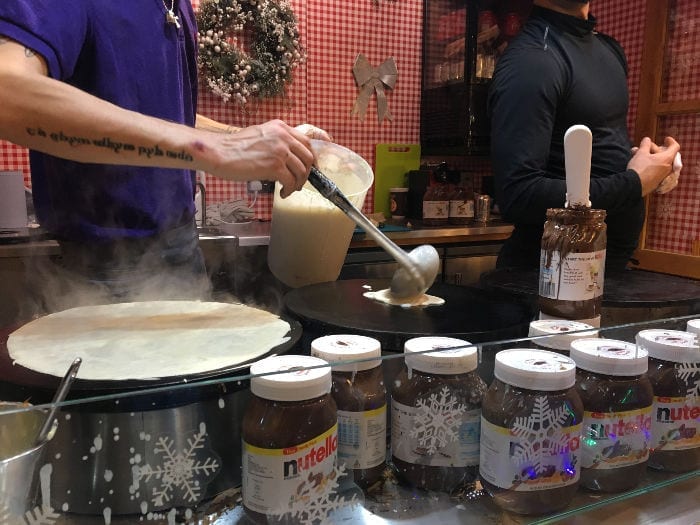 Fruit tarts
The pastry stall is a sensory overload.
The wide range of flaky delights are arranged in neat rows, the bright lights illuminating the glean of the pastry filling.
The golden-brown pastry wafts a sugary smell that entices you to the stand at the top of Grainger Street.
There is an impressive choice, but the clear winners are the tarts, in particular the pear tart, the fruit both sweet and juicy, with a rich, thick crust encasing it.
Cost: £3 each or 4 for £10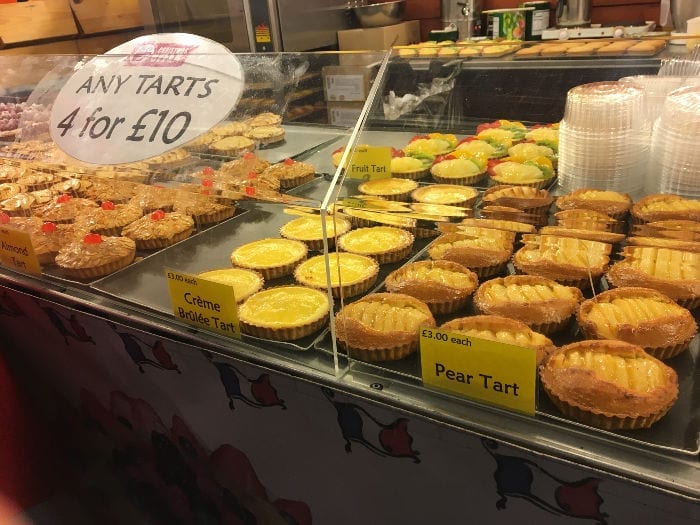 Mulled wine
This classic Christmas beverage is a great way to warm your body and get that festive feeling as you scour the market for gifts.
The dark, scarlet wine is poured fresh and steaming, warming your hands as you wait for it to cool. It tastes sweeter than traditional red wine and is the perfect way to rinse down a brownie.
Cost: £4
Hadrian's Wall Gin
Another local product, Hadrian's Wall Gin takes inspiration from the historical site. Crafted in Northumberland, its gin is infused with traditional Roman botanicals and herbs.
The salesman describes gin drinking as an experience and encourages you to try a sample of their signature gin.
As he talks you through its creation, he instructs you to smell it first, sip it, then shot what's left as the flavour seeps into your taste buds.
Their signature product, Hadrian's Wall Gin, has a powerful, floral taste, and a slightly sour tinge as the liquid oozes down your throat, perfectly paired with Fever Tree's Mediterranean Tonic Water.
The experience does not end there as sloe gin and fruity flavours like rhubarb and apple are available, perfect for gin enthusiasts happy to spend a little extra in support of a local business.
Cost: £38 a bottle
The Newcastle Christmas Markets will be running until Monday 24 December.
I Love Newcastle Magazine would love to hear your thoughts about the above post, so please feel free to share them in the comments box below.