The dates come in support of their highly anticipated second album 'A Thousand Times' which will be released on 26th August 2016 via Catch 22 Records.
The album is the follow-up to the critically acclaimed debut 'Response' which saw the band enter high in the UK Album Charts and reach #6 in both the independent and vinyl charts, with their recent single 'So Long' charting at #1 in UK Vinyl Singles Chart. Building on the success they've managed to establish so far, 'A Thousand Times' looks certain to cement their reputation as one of the most vital young bands of their generation.
Their work ethic and powerful song-writing mixed with their acute social commentary and lack of mainstream industry support has made this fiercely independent band one of the most popular underground success stories in the UK today. This DIY attitude and independent spirit has earned them a dedicated following and sold out shows across the whole of the UK and Europe.
Across the 11 tracks on 'A Thousand Times' it's possible to detect a sharper, deeper vision for the band and a more honed song-writing craft than we've previously seen. Indeed, first single 'So Long' was a taste of things to come, reaching number one in the UK Vinyl chart.
The classic pop theme is carried into the title track and the stunning 'On My Mind' with tracks like 'Day to Day' and 'Return To Me' showing a natural progression in style, whilst the thrilling 'I Don't Even Know Myself' shows influence from dub, reggae and ska, all hinting at bigger things (and venues) to come.
All songs are written by Billy Sullivan and the album is produced by Tom Pullen at CDS Studios in Chelmsford.
'A Thousand Times' is released 26th August on Vinyl, Limited 7" Boxset, CD and Digital Download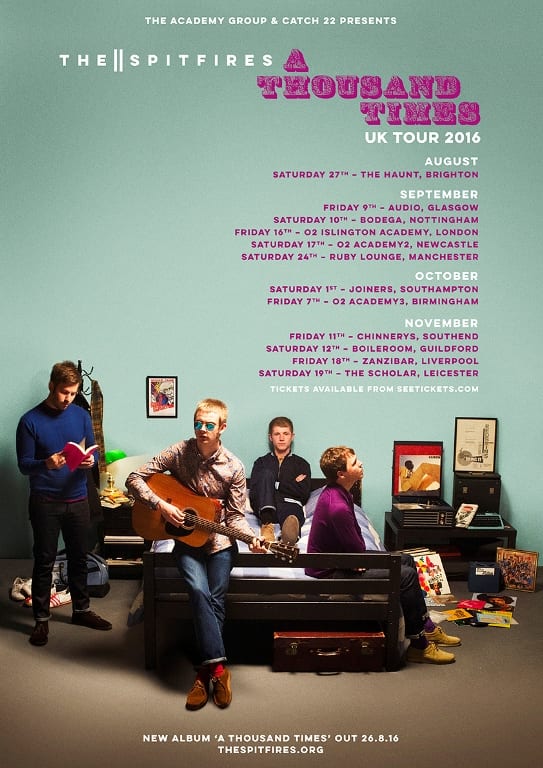 'A Thousand Times' 2016 UK Headline Tour Dates
Saturday 27th August – The Haunt Brighton
Friday 9th September – Audio, Glasgow
Saturday 10th September – Bodega, Nottingham
Friday 16th September – O2 Islington Academy, London
Saturday 17th September – O2 Academy, Newcastle
Saturday 24th September – Ruby Lounge, Manchester
Saturday 1st October – Joiners, Southampton
Friday 7th October – O2 Academy3, Birmingham
Friday 11th November – Chinnerys, Southend
Saturday 12th November – Boileroom, Guildford
Friday 18th November – Zanzibar, Liverpool
Saturday 19th November – The Scholar, Leicester
TICKETS
Tickets on sale now: http://tinyurl.com/athousandtimestour
CONNECT
www.facebook.com/thespitfiresuk
www.twitter.com/thespitfiresuk
www.instagram.com/TheSpitfiresUK
I Love Newcastle Magazine would love to hear your thoughts about the above post, so please feel free to share them in the comments box below.