Local businessman Chris Tubman has issued one last plea to the kind people of Newcastle to help feed the homeless this Christmas.
Chris, who founded deals website NEoffers.co.uk, is giving the charity campaign he runs with The People's Kitchen one last push in the final days before Christmas.
He is asking donors to give just £5 to the provide a vulnerable person with a hot meal this winter.
The People's Kitchen have been feeding vulnerable and homeless people in Newcastle for over 30 years, but receive no government funding, so the charity has teamed up with NEoffers.co.uk for this festive campaign.
This is the fourth year that Chris, who is from Seaton Delaval, has been running the campaign and he has raised around £80,000 so far: "I've always tried to do my bit to help the homeless, I used to buy a sandwich or a coffee for people I passed in the street.
"Since having North East Offers I realised I could do more. The first year we wanted to raise £500 and got £6,500. The second year we raised £8,000 and last year a massive £68,000.
"In the first year we literally just wanted to provide vulnerable people with a hot meal on Christmas Day but now with more money being raised we have been able to extend that to offering warm meals to as many as possible over the winter period."
"So far this year we have raised about £35,000. We don't have a target in mind other than to help as many people as we possibly can, so I'm hoping we can get some more people donating in the run up to Christmas Day."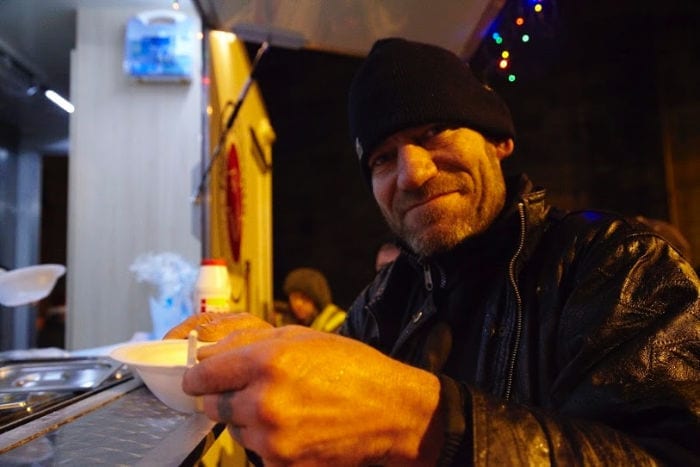 The People's Kitchen will once again be opening its doors on Christmas Day to feed hundreds of vulnerable and homeless people.
Three sittings are planned where those in need can come and have a hot meal.
David Yellowley, a Trustee of The People's Kitchen once again welcomed NEoffers.co.uk's generous help.
"Chris is a very important part of our Christmas campaign. Basic needs such as hot meals are taken for granted by many of us and a small donation of £5 will make such a difference to one of our "friends" by providing the cost of a three course dinner.
"We are very grateful for all donations received from NEoffers.co.uk and the work that Chris does fundraising on our behalf."
To donate click here.
I Love Newcastle Magazine would love to hear your thoughts about the above post, so please feel free to share them in the comments box below.