Something curiouser and curiouser is taking place at one of Newcastle's leading hotels…

And Newcastle city centre is getting ready to welcome another theme bar, after the huge popularity of festive pop-up Miracle on Grey Street.
In fact, after closing on January 3, the site at the Grey Street Hotel has been rapidly transformed into an Alice through the looking glass-style secret garden.
Popping up seemingly out of nowhere, the bar entices punters with 'drink me' cocktails and Mad Hatters, Knaves and Duchesses are all welcome.
Called Those Who Know, the bar, at the corner of Grey Street and Mosley Street, is an extravagant world of flowers and foliage, where nothing is quite as it seems and the characters created by Lewis Carroll are brought vividly to life.

And, along with a full range of wines, spirits, beers lagers and ciders, Those Who Know serves a range of Alice themed cocktails.
With names like the Black-hearted Queen; The Sunshine Caterpillar; Biscuit Tea Party and Tumble Down The Rabbit Hole, you can turn your world upside down for between £6.95-£9.45.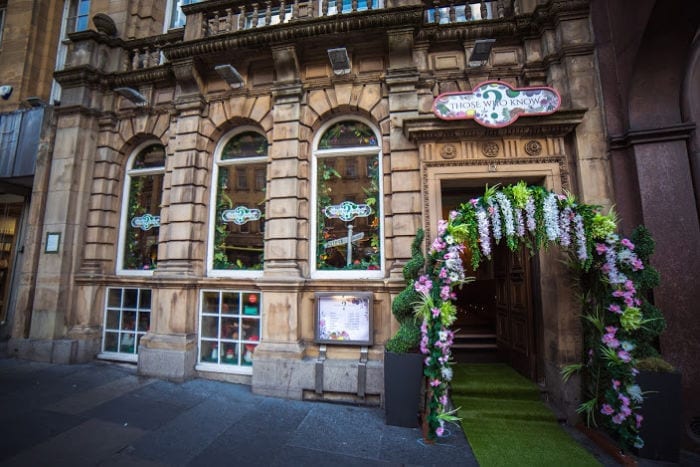 Those Who Know is operated by The Malhotra Group plc, which owns the adjoining Grey Street Hotel.
Business development manager, Fabian Pritchard, said: "It's an homage to the 'down the rabbit hole' world, which has fascinated children and adults alike ever since Lewis Carroll's book about Alice was first published.

"We have tried to create a place in which everything is simultaneously familiar, yet slightly off-centre – where anything can happen if you let your imagination run riot."
The walls have been decorated with wonderland- themed murals populated with the likes of Alice, the White Rabbit, the Mad Hallet, Cheshire Cat and wicked Queen of Hearts.
Fans of the story will spot lots of references to the tale where Alice falls down the rabbit hole, shrinks in size and encounters a 'curiouser and curiouser' world.
There is a giant clock on the wall, speeding backwards and forwards through time, a crazy tiled passageway, magic mirror and even an upside-down menu.
Those Who Know is open from 12 noon to midnight on Friday and Saturday and from 12 noon to 11pm Sunday to Thursday and can be exclusively hired for parties of up to 120 people.

For more information visit www.malhotragroup.co.uk/thosewhoknow
I Love Newcastle Magazine would love to hear your thoughts about the above post, so please feel free to share them in the comments box below.