We Love Thaikhun…
So when they asked us to try their new menu, we simply couldn't refuse!
Thaikhun opened in March 2015 and continues to truly embrace its authentic street vibe. From the restaurant's relaxed atmosphere and spontaneous decor to the delicious and fuss-free food, it's no wonder this INTU Metrocentre eatery was packed on the Tuesday night when my tribe visited.
The colourful, fit-to-burst interior is crammed with authentic Thai nick-nacks – sacks of rice, pots, pans, flowers, books, postcards, maps, newspapers, birdcages and bikes – all designed to transport you to the heart of bustling Bangkok.
The new menu is a colourful collective of flavour and fresh ingredients, typically found on the streets of Thailand, with fun titbits of information helping you decide what to order. And you need all the help you can get as there is so much to choose from.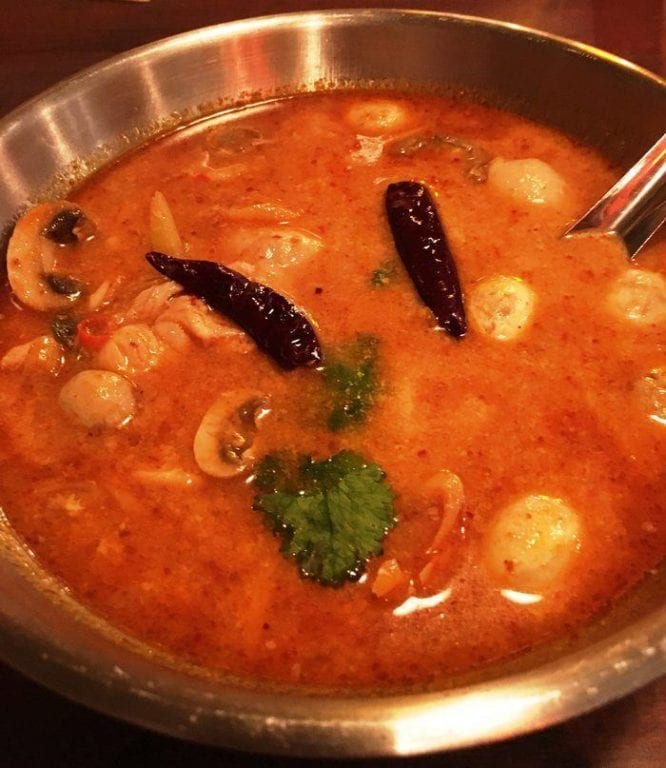 There's sharing platters, healthy salads, curry, stir fry, rice, noodles and grill and you can make your own pinto boxes! There is also a dedicated 'For The Young Adventurer' section which features National Geographic and is packed with fun facts and activities complete with free creepy crawlies.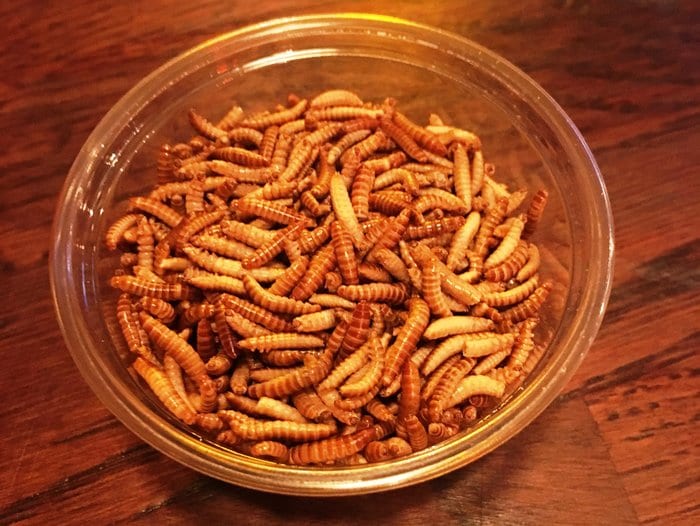 We chose a mix of new dishes and old favourites instead. Some of the dishes on the old menu have been tweaked.
All three starters were packed with flavour and taste. The delightfully spicy Tom Yum chicken soup – with huge chunks of tender chicken, mushrooms, galangal, lemongrass, roasted chilli and mushrooms. The Gai Satay – marinated chicken skewers accompanied by delicious peanut sauce and relish. Then there was a new addition and our absolute favourite, Ka Nom Jeeb – steamed vegetable dumplings which were a wonderful revelation. We highly recommend you try these!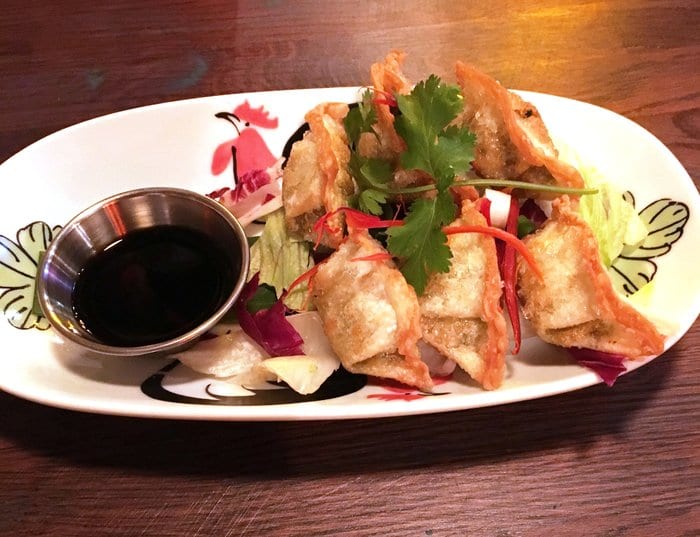 While we enjoyed our starters – our (brave/foolish) kids, completely unphased, tucked into their creepy crawlies like it was candy.
Make Your Own Pinto is a great way to try a couple of dishes if you can't make your mind up. These are served for two or more in traditional pinto boxes as used by workers in Thailand for their packed lunches. Simply choose three dishes and rice. Arguments over, we finally opted for the Nua Phad Kra Prao – Made with stir fried tender slices of beef, chilli and holy basil. This dish was my favourite as the beef was melt in your mouth tender with the flavour of the herbs and spices culminating into a rich and tasty gravy. This one was particularly good. A classic Chicken Pad Tai which was just that.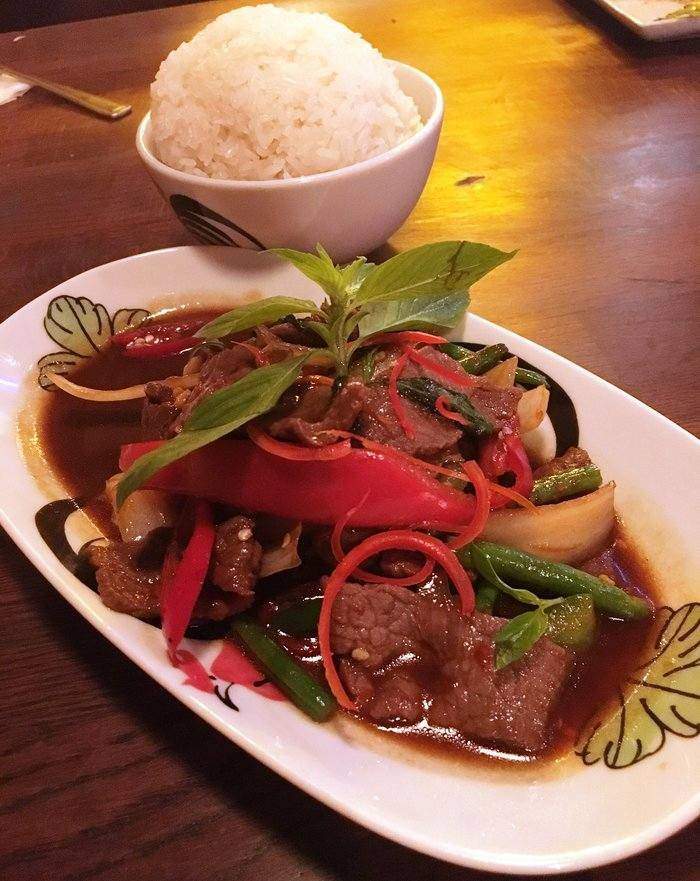 The Kids really enjoyed their tender grilled chicken with rice and a sweet bbq sauce. This was a great way to introduce them to a new and delicious cuisine which certainly gained their seal of approval.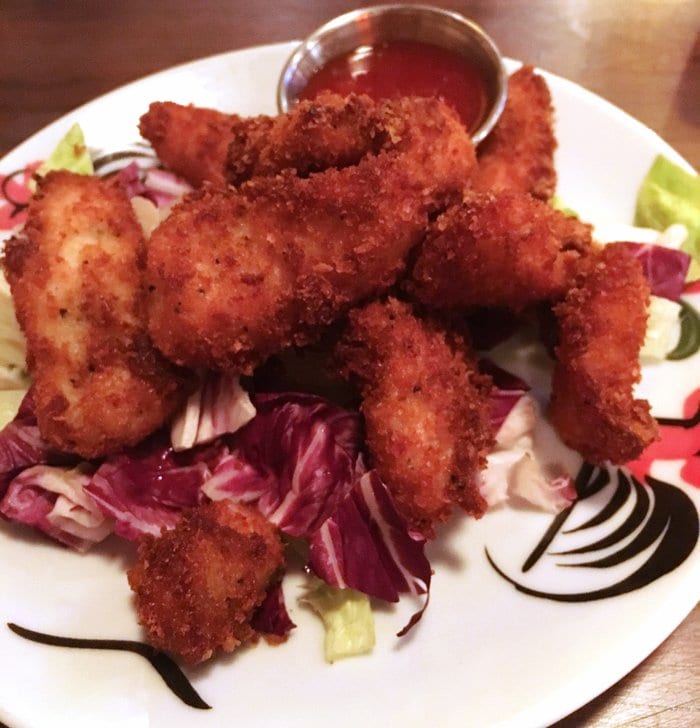 After a brief break in which we contemplated the dessert menu and decided we did have room to try one Thai sweet treat, we settled on the Pancake Sankaya. This Thai twist on a popular favourite came stuffed with pandan custard, a vibrant green dessert made from the pandan plant, served with an aromatic and refreshing coconut ice cream. The colour of the dessert may have been slightly unusual but the taste of the strange custard slowly grew on us and we ended up polishing off the whole dish. While it may be an acquired taste, this sweet dish is definitely worth a try if you feel like testing your taste buds or your culinary limits.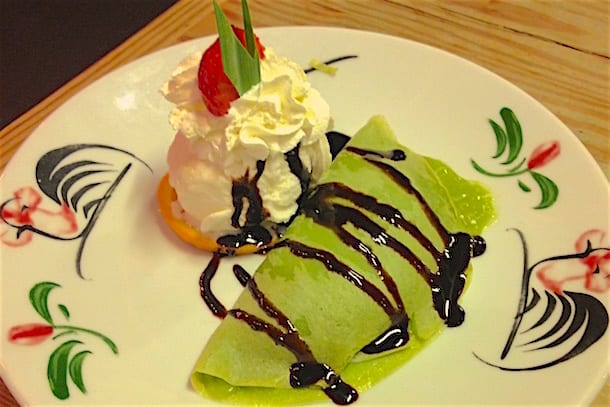 Having enjoyed an extremely satisfying and aromatic meal, I would definitely recommend Thaikhun to lovers of Thai cuisine and to anyone who to anyone who has yet to be converted. With a traditional and successful Thai chef behind the menu and a team of Thai chefs in the kitchen, the restaurant certainly doesn't skimp on authenticity. While all restaurants may have some dishes you prefer over others, Thaikhun's variation of amazing dishes along with its friendly atmosphere make it the perfect place for different people, different tastes and different occasions.
CONNECT
Visit: www.thaikhun.co.uk
Facebook: www.facebook.com/ThaikhunMetrocentre
Twitter: @TK_Metrocentre
I Love Newcastle Magazine would love to hear your thoughts about the above post, so please feel free to share them in the comments box below.