Forget mansions and stately homes – a modern, three-bedroom family house is Newcastle's preferred home, according to research released today.
The survey by British Gas revealed that most people would choose a three-bedroom, detached home with a garden over a larger, more a lavish property as their ideal home. Only a quarter of Newcastle residents (27 per cent) want a swimming pool, while 62 per cent said off-street parking was what mattered most. Eight in ten (85 per cent) said they would choose a house with a garden.
Households would choose a games room over a granny flat, with almost a quarter (23 per cent) of people wanting somewhere to play games compared to only two per cent who said they would rather have a separate flat. A home office was also a popular choice, with more than 36 per cent saying they would choose to have one in their ideal home, while almost 62 per cent would like a utility room.
When asked what word they think of first when describing their home, one in three said 'family'. Other popular answers were 'safe', security', and 'comfy'.
The research was carried out as part of the Great Home Debate. As part of a national conversation about home, Shelter and British Gas have joined forces to shape new standards for homes in the 21st Century.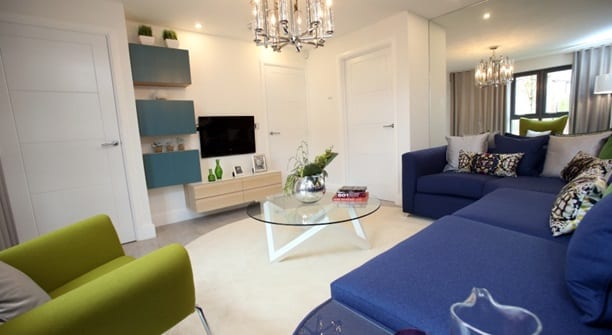 Bryan Halliday, Head of Corporate Citizenship at British Gas, said: "Working with Shelter, the Great Home Debate will enable us to understand how we can help more people across the country to have a safe, warm and comfortable place to call home, and will help to shape the housing standards of the future."
The survey also asked what moment a house becomes a home; almost fifth (23 per cent) of respondents said it was the moment they stepped through the door, while 12 per cent said it took a little longer, only feeling at home once all the boxes were unpacked.
On average, people in Newcastle have lived in their current home for more than 15 years, and around a third (30 per cent) has lived in their current home for more than 20 years. About a third of those surveyed hoped never to move from their current property; one in eight (12 per cent) claimed to love moving home.
Campbell Robb, Shelter's chief executive, said: "Everyone deserves the chance to have a place to call home, where they can build a life for themselves and their families. But our ever-growing housing crisis means more and more people are seeing this simple dream spiral out of reach.
"Shelter has been the champion for homes for 50 years and together with the public, we want to create change for future generations. So take part in the Great Home Debate and tell us what home really means to you, and we will fight to make this the reality for every home in Britain."
Anyone can join the Great Home Debate by visiting www.greathomedebate.org.uk and sharing their thoughts on the meaning of "home" in Britain today.
I Love Newcastle Magazine would love to hear your thoughts about the above post, so please feel free to share them in the comments box below.