The university year has officially started again. As the freshers settle into their new university life and returning students are forced to wake from their summer break, they shake off the heat and get back to studying.
Last year saw a record amount of students being accepted into universities with over 532,300 people entering higher education in over 37,000 undergraduate courses; the demand on having the 'university experience' is higher than ever before.
For freshers, their introduction week is usually filled with ice breakers, society sign ups and themed nights out. This can give them a chance to find like minded students and inevitably fall into a suited clique of friends.
Thanks to social and media influences, university students have been separated into different sections and stereotyped based on their choice of degree, looks, interests and behaviour. Many of us could fit ourselves into a certain stereotype based on these points.
With this in mind, Parklane Properties have put together a fun student generator for students and even Alumni to see what kind of student stereotype they fit in based on their life at university. Following the flowchart to answer a series of yes/no questions will reveal a stereotype and fun profile to match.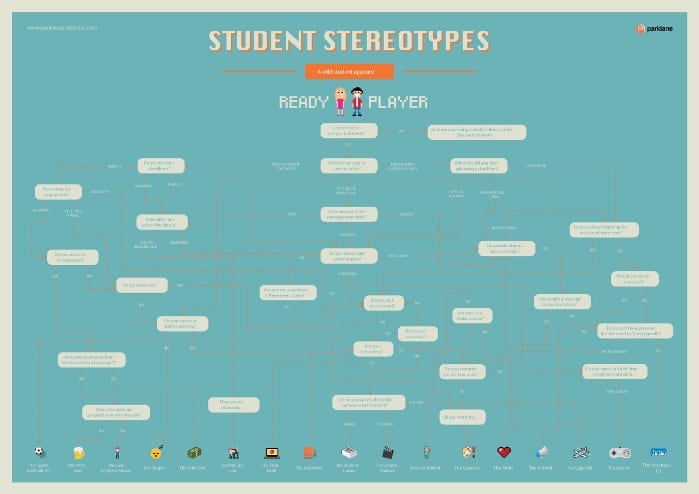 View the full size version of the flow chart here>>.
Some of us may think we don't fit into any stereotype, however, when students were asked at freshers week whether they could fit themselves and their friends into a stereotype they all answered yes, based on what they were interested in.
Students were also able to create a brief profile of people based on the stereotypes they were already aware of. For example 'The Tech Geek' was described as a quiet person with more than one laptop and lots of games. 'The Party Goer' was seen as someone with a messy appearance, dark eyes and often loud.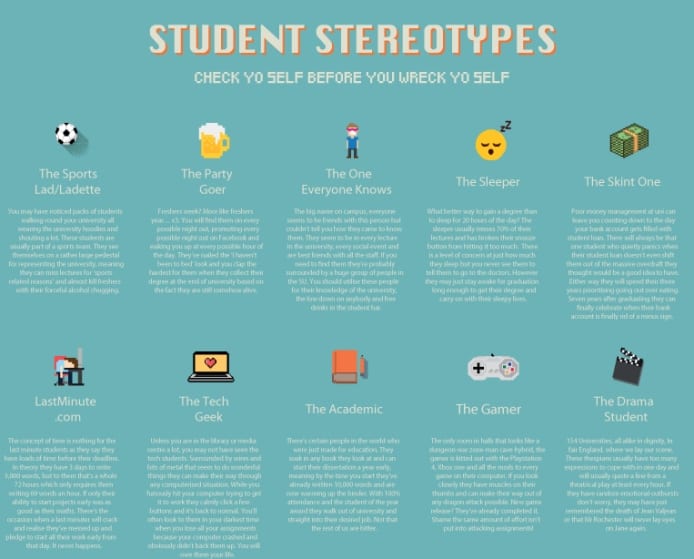 View the full size version of the stereotypes here>>.
All these stereotypes will feature in the generator along with 14 others that are most commonly found throughout Universities. Whether you think you're a 'party goer', the 'mother of the group' or the 'big name on campus' the generator will tell you which group you really belong in and why.
I Love Newcastle Magazine would love to hear your thoughts about the above post, so please feel free to share them in the comments box below.