There's no two ways about it: chocolate is the ultimate comfort food. Not only is it downright delicious, it's also known to encourage the release of endorphins (aka the 'feel-good chemical') in our brains and so can actually make us feel happier too.
And with a whole host of chocolate-related celebrations like Mother's Day and Easter just around the corner, there's really no reason not to stuff your face with as much chocolate as possible. How else are you supposed to keep those endorphin levels up?
Luckily, here in Newcastle we're blessed with some excellent options when it comes to satisfying a sweet tooth with delicious local offerings from homegrown chocolatiers.
North Chocolates
The brainchild of Newcastle-based journalist turned chocolatier Bev Stephenson, North Chocolates' speciality is artisanal gourmet chocolate bars made from the finest couverture. To those not in the know, that's quality chocolate made with a higher cocoa butter content to make it even more mouth-watering.
A wide range of dark, milk and white chocolate bars are available with flavours ranging from classics including hazelnut or coffee to unusual offerings ideal for chocoholics with a more adventurous palate like liquorice and blackcurrant, ginger and fennel or geranium.
These icon bars include bespoke illustrations from local artist Suzanne Homer, and make a fab present for any lover of our fine region.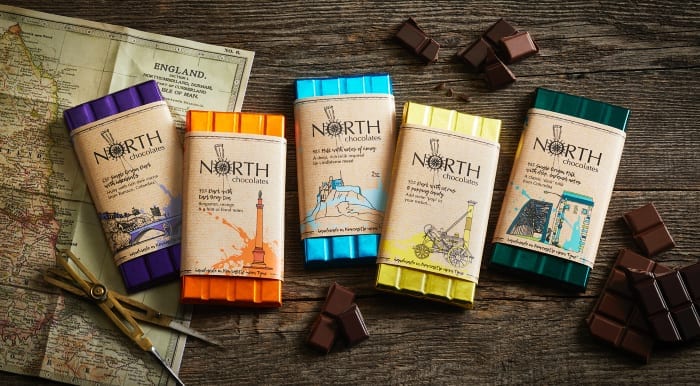 Chocolateeha
If you're a chocoholic who wants to enjoy their favourite sweet treats guilt-free, Chocolateeha's range of health-conscious chocolate bars are the ones for you.
Made from raw cacao nibs which contain less calories than roasted cocoa, Chocolateeha's signature Raw range are dark chocolate delights in flavours like goji berry or almond and raisin and contain no more than around 210 calories per bar. They're also free from dairy, lactose and soy and suitable for vegan and halal diets too.
For those who can't be persuaded over to the dark side, there also an Indulgent range offering milk chocolate options in flavours like white chocolate coffee and cardamom and roasted hazelnut.
The Chocolate Smiths
For chocolate with a truly original twist, look no further than the weird and wonderful world of The Chocolate Smiths.
The Newcastle-based chocolatier's mission is to create 'luxury chocolates with the fun left in'. Hence their signature Bizarre range is crammed with chocolate bars that wouldn't look out of place in Willy Wonka's product line like bubblegum, banoffee bread and the Banging bar – a fun mix of cinder toffee, marshmallow, popping candy and white chocolate.
For the more daring chocoholics out there, The Chocolate Smiths offer even more unusual chocolatey combinations. How does maple bacon, cheese and cracker or chip shop curry flavour chocolate take your fancy?
Davenport's Chocolates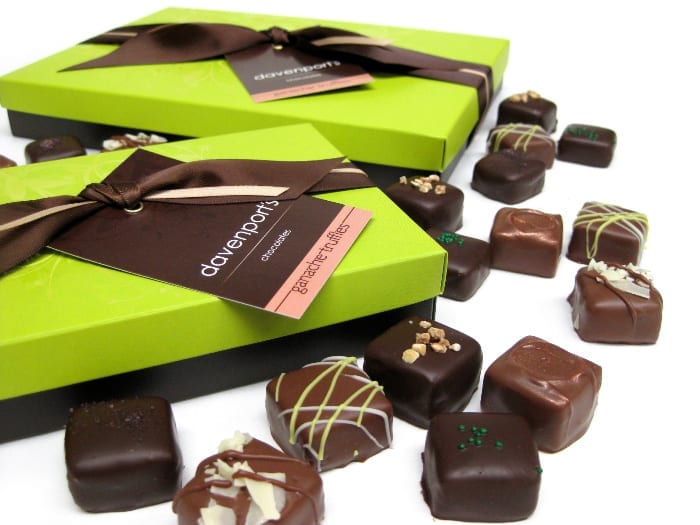 Set up by master chocolatier Jane Williams in 2007, Davenport's Chocolates in Gateshead is an artisan studio conjuring up sweet treats that take traditional recipes in an exciting new direction.
Amongst its many creations are truffles flavoured with the likes of chilli or ginger and lemongrass, dark chocolate fondant creams with hints of parma violet or fennel blossom and fancy chocolate buttons made with mocha or honey. In other words, it's pure decadence in chocolate form.
And for those who like to keep it even more local, Davenport's also offers a range of regionally themed chocolate truffles in flavours including Brown Ale, Earl Grey Tea and Singing Hinny.
Fenwick Food Hall
The chocolate and confectionary department at Fenwick Food Hall is quite simply a mecca for all things chocolate.
Alongside stocking delicious pralines and truffles from the likes of luxury brands including Godiva and The Wolseley, the Food Hall also features a dedicated chocolate counter where the sweet-toothed can head to create their own bespoke box from a range of tempting gourmet treats.
Last but by no means least, there's a chocolate bar wall featuring over a hundred different varieties including a few from some of the homegrown North East brands mentioned above.
I Love Newcastle Magazine would love to hear your thoughts about the above post, so please feel free to share them in the comments box below.