With the boys at Newcastle United having another dodgy season, maybe it's time for the girls across the city to get their boots on and show them how it's done?
Well now they can, as women and girls across Newcastle will get the chance to join football and other fitness sessions thanks to a new charity project.
The project, which aims to encourage more females into sport, will be run by West End-based charity Hat-Trick and has kicked off thanks to funding from housing provider Your Homes Newcastle (YHN).
Hat-Trick secured £8,000 of YHN's new Community Investment Funding pot to host sport and fitness sessions across the city.
The Hat-Trick Girls Hub project encourages women and girls of all ages to try a new activity in the run up to the festive period and beyond.
Hat-Trick coach Michelle Monk, 23, said: "Our sessions are a great opportunity for women to come along, try out a new activity and make new friends in a friendly, supportive environment.
"There are loads of benefits to taking part, we see women getting fitter and losing weight but we also see lots of people gaining self-esteem and confidence from the sessions.
"Thanks to the funding from YHN we now have sessions running across the city and we're encouraging anyone who feels like they fancy giving it a try to give it a go.
"There's not just football on offer, we also have fitness sessions and loads of different sports."
As well as the opportunity to try out a new exercise and get fit in the process, the sessions offer the opportunity for participants to learn new skills and build confidence in the process.
Michelle added: "I started out just coming along to play, but then Hat-Trick took me on as a volunteer and now I'm a full-time coach, so the project has made a massive difference for me."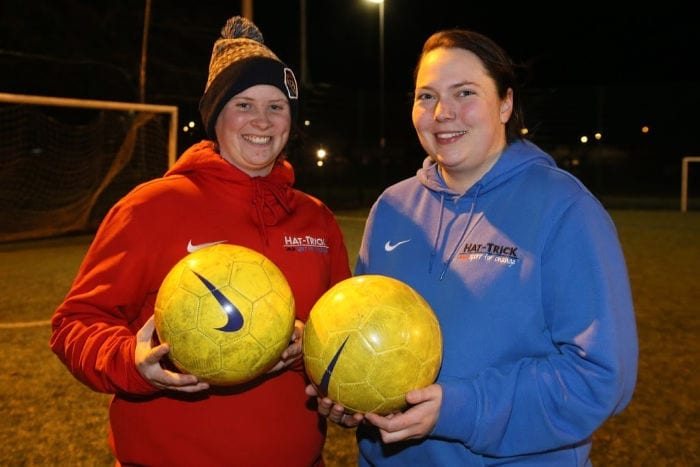 Stacy Burrow, 28, from West Denton, who lives in a YHN home and regularly takes part in Hat-Trick's football sessions, said: "I love football and had a time when I stopped playing, but after finding out about the Hat-Trick project, now I come to loads of the sessions.
"The girls are all great and I've made new friends.
"I'd encourage anyone thinking about it to just come along to one of the sessions and have a go."
YHN's Community Investment Fund aims to building stronger communities, strengthen community partnerships and reduce social isolation, focusing in particular on the communities where the housing provider has homes.
The initiative, which was launched in July, sees charities and projects from across the city bid for a share of the £100,000 annual funding pot.
To date 13 projects have successfully applied for funding including a garden makeover project in Elswick, a dementia garden in Scotswood and a Men's Pie Club aiming to reduce social isolation across the city.
Matthew Foreman, Director of Customer Services at Your Homes Newcastle, said: "This is the first year of our Community Investment Fund, which aims to strengthen the great work of the projects that are already working in the communities where we have homes, helping give them an opportunity to reach a wider audience and engage more people.
"It is fantastic to see the projects we've funded including Hat-Trick Girls Hub getting off the ground."
The Hat-Trick sessions are free to attend and will be held from North Kenton, Benwell, Walker, Elswick, Cowgate, Westgate and Fawdon for the next five months. To find out more visit https://www.facebook.com/hattricksessions or contact Emma Brown, Hat-Trick Community Sport Manager, on 0191 406 0291.
To find out more about YHN's Community Investment Fund visit https://www.yhn.org.uk/extra-support/get-involved-2/community-investment-fund/
I Love Newcastle Magazine would love to hear your thoughts about the above post, so please feel free to share them in the comments box below.