With neon lights, industrial décor and graffiti wall art, Pizza punks is certainly making a statement, but is their pizza a worthy escape from the status quo of prescribed flavour combinations or are they rebels without a clue?
The Newcastle pizza restaurant is the third to open in the UK, with branches already in Glasgow and Belfast.
The people behind it say they wanted to embrace the punk spirit of freedom and let people choose whatever they want on the top of their pizza without charging more.
Their build-your-own pizzas cost £10 no matter how many toppings you go for and there are loads to choose from.
They are split into three groups; 'protein', 'veggie' and 'rogue'.
'Protein' has a range of meat and veggie delights such as veggie haggis, haggis, candied bacon nduja and Tuscan sausage.
'Veggie' offers up choices like potato, falafel caramelized red onion and artichokes.
And 'Rogue' offers interesting options such as Irn-bru pulled pork and Newcastle Brown Ale beef brisket.
You can also choose the sauce, from red: San Marzano tomato, basil and garlic, white: crème fraiche and double cream, and BBQ: a blend of BBQ sauce and San Marzano tomato.
And you can even opt to have either a sourdough or a gluten-free base at no extra charge.
There are recommendations for set pizzas 'if you can't be punk'd punkin it up'.
We had a born and bred Italian on our judging panel and we tried: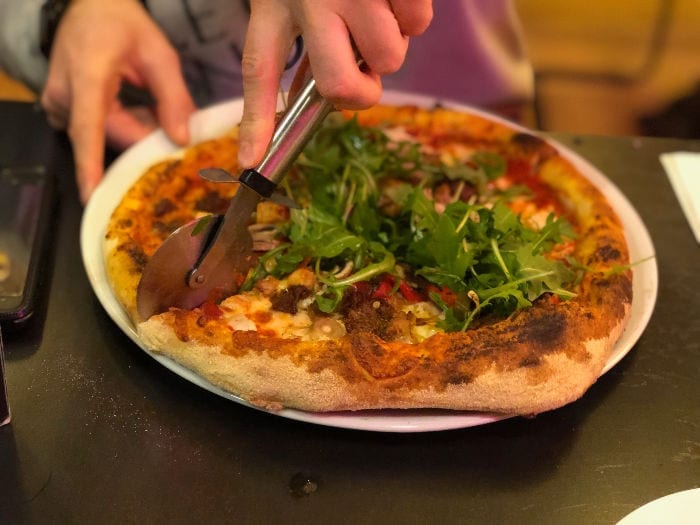 Tuscan sausage, fajita chicken, lemon chicken, Newcastle Brown Ale beef brisket, chilli and chocolate pulled pork, red peppers, mushrooms and rocket.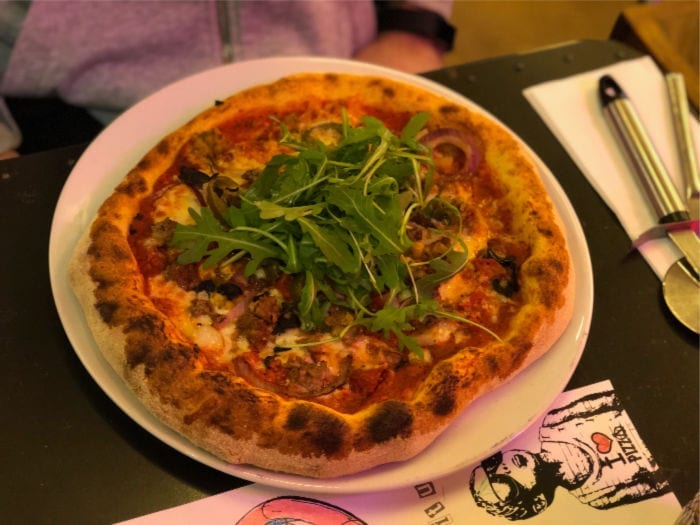 Tuscan sausage, chorizo, falafel, onions, olives, scamorza cheese, red onion and potato.
A gluten free – Pepperoni, chorizo, mushroom, sweetcorn, red onion, pineapple and nduja.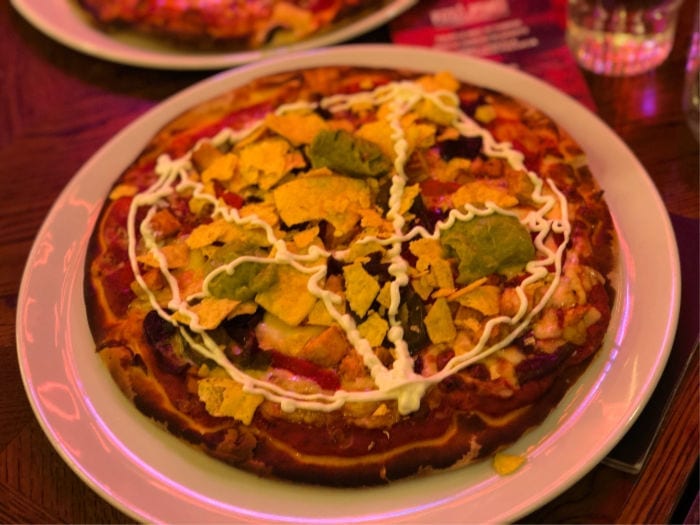 A gluten free – 'Messy Mexican': Applewood cheddar, fajita chicken, caramelized red onion, red peppers, jalapenos, topped with tortilla chips soured cream and guacamole.
The verdict:
The pizzas were cooked in wood-fired pizza ovens in an open kitchen in the middle of the restaurant, which made a good central focus for the restaurant.
The sourdough bases were light and fluffy with plenty of air in them. The Italian gave them his seal of approval saying he thought they were just the right softness and nice and stretchy.
The gluten-free option was by no means an inferior option, as it so often is. The bases were light, airy and crispy without being too hard and were a far cry from the cardboard like offerings served up in so many places.
We liked that you could put whatever you wanted on the pizza, but we were a little concerned that they might end up top heavy.
However, the pizza chefs didn't go overboard with each topping, so there was just the right amount, without the base collapsing under the weight, or anything being too overwhelming.
The toppings themselves were good quality. The veggies were crisp and fresh, and the mozzarella cooked to perfection.
The Brown Ale brisket was flavoursome without being overpowering and the chipotle and chocolate pulled pork struck the right balance of sweet and spicy without being too sickly.
The Messy Mexican was probably our least favourite of the lot. It was a bit heavy, and the tortilla chips on the top didn't really work.
The pizzas were a good size, particularly for the price and easily satisfied the blokes on the panel.
Our only criticism was that there was perhaps a little bit too much tomato sauce on the bases.
The place was family friendly and there were pictures and crayons on the table.
However, we had a toddler with us and his food came out a good ten minutes after ours, which is never what you want when dining with children. Always feed the kids first!
Overall, we thought Pizza Punks was thoroughly decent pizza, well-priced and a bit different from the norm. It passed the 'Italian' test with flying colours, the service was as good, and the restaurant had a funky feel that would appeal to a wide range of diners.
I Love Newcastle Magazine would love to hear your thoughts about the above post, so please feel free to share them in the comments box below.