A TEAM of youngsters with disabilities have taken on the world's biggest inflatable obstacle course for a charity they say has changed their lives.
The group of seven, aged 17 – 24, signed up for 5k obstacle course Gung-Ho! to raise funds and awareness for event partner charity Smile For Life, based in Newcastle.
Smile For Life Children's Charity has helped the young adults by providing work experience at Café Beam to build their confidence, skills and independence, experiences like camping and cycling trips and equipment such as laptops and tablets to aid learning.
Between them, the inspiring individuals hope to raise £2,000 as a way to say thank you to the charity, and despite their various learning difficulties which affect their balance, co-ordination and muscle tone, all completed the 5k race after months of training.
One of those who took part at was Cole Forster, who has raised £1,000 alone from the Gung-Ho! event. The 21-year-old who has Autism said: "Smile For Life has changed my life and so I wanted to help them and say thank you to the charity.
"I thoroughly enjoyed the experience today (at Gung-Ho!). I have done lots of training; I was nervous because I thought it was going to be really hard! I saw Gung-Ho! here last year and it looked great so I decided that I would do it. I'd like to thank everyone for their support including those from the charity and everyone who has sponsored me."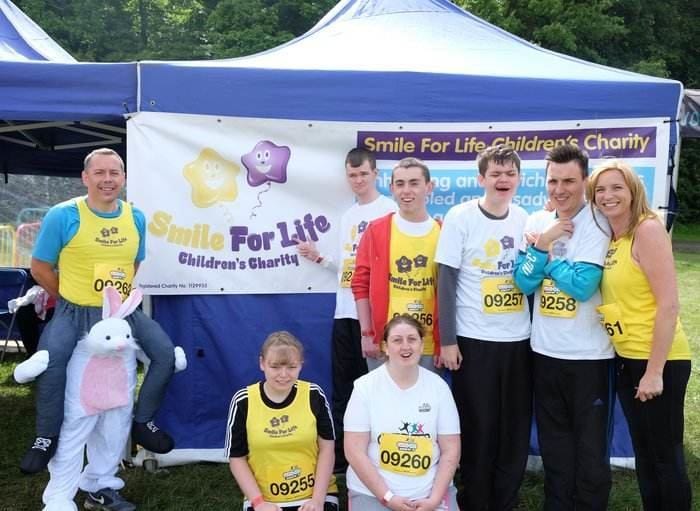 Ross Keeley also took part in the race at Newcastle Racecourse. He became aware of Smile For Life's work after being offered a work placement at the charity's Café Beam in Gosforth and now works regular shifts there.
The 19-year-old, who has a range of learning difficulties, said: "I loved the charity as soon as I heard about it. I feel more sociable now I have been working at the café for two years, it has really helped me."
He added: "Gung-Ho! is brilliant, my favourite part was the slide at the end. I'd say to everyone that you should have a go, don't let a disability stand in your way."
Smile For Life helps disabled and disadvantaged young people in the north east by providing them with specialist equipment, memorable experiences, work experience, challenging activities and anything that will help their quality of life.
It is the second year the charity has been partnered with the wacky event, raising about £6,000 last year through runner's sponsorship, paid volunteers and collection buckets.
Paula Gascoigne, CEO of Smile For Life, also took part in the 'It's A Knockout'-style race. She said: "We all stuck together and helped each other with the obstacles, it was a team effort. The youngsters did very well, despite their difficulties they all made it to the finishing line, it was a great day. The rain just added to the fun and we will definitely be back next year!"
Alex Winters, CBeebies star and the brains behind Gung-Ho!, said of the inspiring team: "These guys are absolutely brilliant. They have benefitted from Smile For Life, which is a fantastic charity, in many ways.
"Now they have decided to give something back which is amazing, and they have raised an incredible amount of money. They have really understood and embraced the concept of Gung-Ho! and I am full of admiration for every single one of them and am so pleased they came and took part.
"They did Gung-Ho! together, having fun and helping each other around the course which is what Gung-Ho! is all about. Thank you everyone at Smile For Life!"
For more information on Smile For Life go to www.smileforlife.org.uk or 0191 2844166.
WEBSITE
www.smileforlife.org.uk
FACEBOOK
/smileforlifeNE /cafébeamnewcastle
TWITTER
@smileforlifeNE / @cafebeamncle
I Love Newcastle Magazine would love to hear your thoughts about the above post, so please feel free to share them in the comments box below.