The latest addition to a stream of foodie spots that are transforming Newcastle's former iconic Co-op Building into a dining destination, Zaap Thai on Newgate Street is the third of its kind to open following successful launches in Leeds and Nottingham.
Boasting authentic Thai street style eats, its reputation comes bolstered by owner Ban Kaewkraikhot who relocated to the UK after cutting her teeth cooking in the street stalls of Bangkok and has been steadily building her Thai food empire – which also includes the award-winning, Yorkshire-based Sukhothai restaurant group – ever since.
Decked out in coloured string lights, neon signs, graffiti and even the front end of a bus, there's a bustling open kitchen and a fun, informal buzz at Zaap Thai that gives off the vibe of a busy Bangkok street food market – a more than welcoming haven, especially now the long, dark wintry nights are drawing in.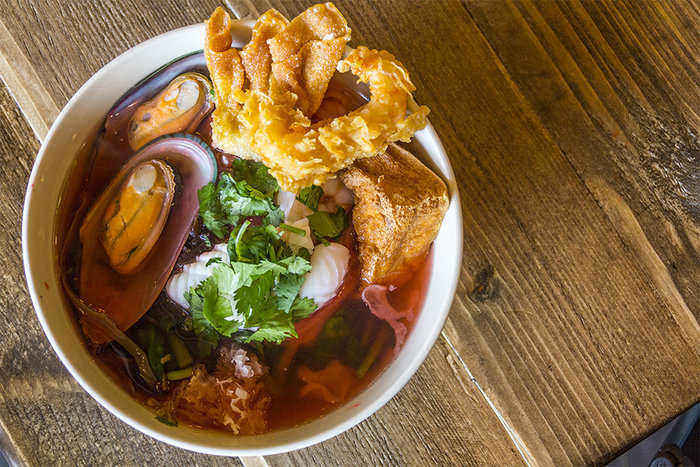 Arriving early evening quite peckish with our appetites whetted by a couple of pre-dinner drinks at The Gate, we were promptly led to one of its jazzy tuk-tuk style booths to drool over Zaap's menu. There's a huge array of food on offer with something for every palate possible, from dim sum and soups to seafood and noodles, with dishes ranging from familiar Pad Thai and green curry to more exotic, lesser known fare and the option to 'vegetarianize' and personalize the spice level of many dishes.
As big Thai food fans, we were already chomping at the bit to get our mitts on Zaap's grub and feeling gluttonous, we opted to have our starters and mains served at the same time. After grazing on some crispy prawn crackers with sweet chilli dip, our starters – sweet, golden brown deep-fried corn cakes for me and chicken gyoza for my friend – arrived and were quickly followed by our mains.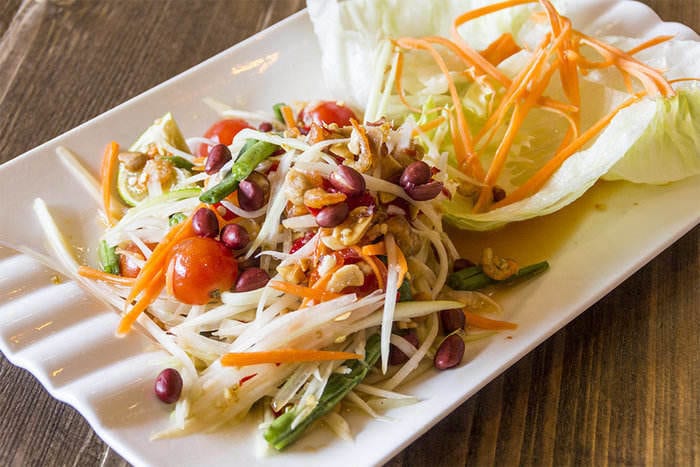 My massaman curry was a rich, fragrant concoction crammed with tofu, potatoes, carrots, onion and peanut in a creamy sauce served with a perfectly sized portion of jasmine rice on the side, while my trusty dining companion went the whole hog, as it were, with a dish of som tum pou pla rah – a spicy and quite pungent papaya salad with raw crab and fermented fish sauce. Granted, it's not a dish for everyone and Zaap Thai's helpful staff were kind enough to let us know fermented fish can be quite an unusual taste sensation for the uninitiated, but for my friend's adventurous taste buds and anyone wanting to try a truly authentic Thai dish, it's perfect.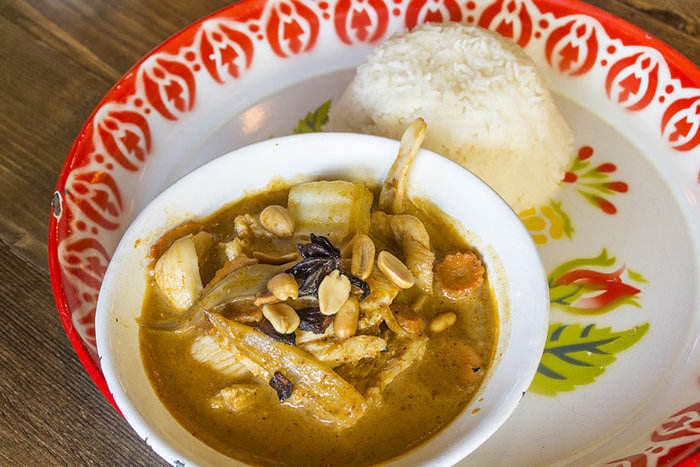 A Singha beer and a Bloody Siam-ary – a classic Bloody Mary given a tangy Thai twist with kaffir lime leaves – made a perfect, refreshing accompaniment to our delicious grub and with satisfyingly filling dishes marked at around £5 for starters and between £8 and £13 for mains, Zaap Thai's authentic eats are more than reasonably priced.
All in all, Zaap is a fun little spot perfect for anyone wanting to sink their teeth into proper Thai cuisine made all the more enjoyable by its friendly, knowledgeable staff and quirky, lively vibe.
Zaap Thai, 117 Newgate Street, Newcastle upon Tyne, NE1 5RZ, 0191 230 1280
http://www.zaapthai.co.uk/newcastle
I Love Newcastle Magazine would love to hear your thoughts about the above post, so please feel free to share them in the comments box below.